florida's

real estate

---
BOCA RATON HISTORY
AMENITIES
BOCA CLUB LIFE
LINKS
---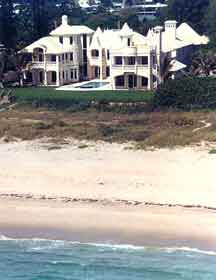 Direct oceanfront - fabulous new "Estate" home or "Corporate Retreat."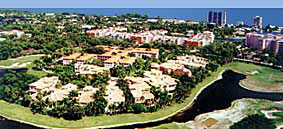 Addison Estates is comprised of custom built homes on the grounds of the prestigious Boca Raton Resort & Club.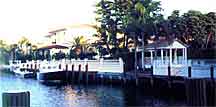 The prestigious Sanctuary is one of the older communities.
BOCA RATON COMMUNITIES
BOCA 'BURBS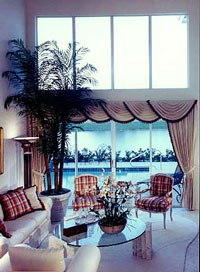 Hampton Court's Imperial model is typical of Boca homes in the western suburbs.

Many families are heading out to the hinterland. With Boca Raton almost fully built-out, the western suburbs are blooming with new neighborhoods. Back in favor is the barbecue-on-the-back-porch, kind of neighborhood where kids ride bikes, moms push baby carriages and teens play pickup ball games. A community pool and activity center completes the "Leave it to Beaver" scene. There's nothing '50s about the homes in new developments though. "Must-have" features include high ceilings, vast bathrooms, gourmet kitchens with old-fashioned pantry, large family rooms; media room and a cafe -- casual dining area. These kind of homes along with new neighborhood schools and plenty of parkland have made communities such as Boca Falls, Boca Shores and Saturnia immensely popular.

LUXURY ZONES: GRAND AND GRANDER
Boca Raton also boasts many communities of luxury homes with a wide price range depending on age of homes, size of lots and location.

Among those built in the 1970s and '80s are Boca Bath and Tennis; Colonnade; Estancia; Les Jardins: Millpond; Newport Bay, Seasons, Timbercreek and Woodfield Hunt Club. Developments dating from the 1990s, (some with homes still being built) include Mediterranea; Santa Barbara, and The Preserve.

Spectacular homes are the norm in the most upscale communities including Long Lake Estates with homes on a minimum of an acre; Le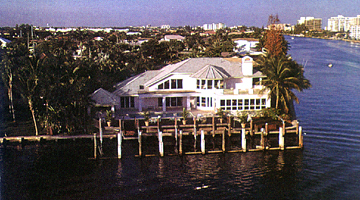 "Point" lot on Florida's Intracoastal - beautiful new contemporary home - perfect for the yacht enthusiast.


Lac where homes on two to 15-acre tracts start in the millions of dollars; Addison Estates, modeled after an Italian village, has 15 estate homes in an enclave on the grounds of the Boca Raton Resort and Club; its residents have total privacy with the Resort's amenities available.


Grandeur on a vast scale is evident in Mizner Lake Estates, another enclave of 15 homes on the grounds of the Boca Raton Resort and Club.

East is the way to go for some of Boca Raton's most prestigious addresses. Older waterfront communities with ocean access such as Boca Marina Yacht Club, the Sanctuary and Golden Harbour and Royal Palm Yacht & Country Club are a flurry of activity as old homes are bought as "teardowns" and replaced by multi-million dollar palaces with thousands of square feet of living space and room for entertaining.

CONDOS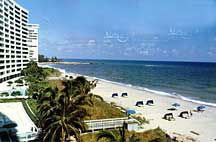 The Addison on the Ocean condos range from $500,000 to $2,000,000.

Boca Raton has a range of luxury condominiums with more on the drawing board or under construction. Townsend Place in the heart of Boca Raton overlooks the golf course fairways and will have three Mizner-inspired buildings when complete. The "Golden Circle" around Lake Boca Raton includes some older but very desirable condominiums such as The Addison. The venerable prestigious Presidential Place is located on the ocean next door to the Boca Raton Resort and Club's Beach club. Across the lake on the grounds of the Resort is Mizner's V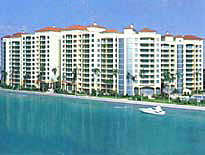 Mizner Grand on the Intracoastal Waterway.

illage with mid-rises Mizner Court, and Mizner Tower and Mizner Grand's two towers tiered from 10-12 stories. Aragon's condominium residences include town homes and three story penthouses in a distinctive oceanfront white castle of stepped design. Also on the ocean is Excelsior, now under construction. It will have 27 luxury residences of 5,200 square feet including some seaside villas with their own courtyard and private swimming pool. Just over the border from Boca Raton in Highland Beach, residents are still moving into the new Toscana Tower One, set in a 17-acre enclave.

While building activity appears to have focused primarily on homes in Boca Raton there's also a lot going on in the commercial field especially office buildings and shopping ce
---
nters. Boca Raton is a great place to live, work and play.

---