florida's

real estate

---
BOCA RATON HISTORY
COMMUNITIES
BOCA CLUB LIFE
LINKS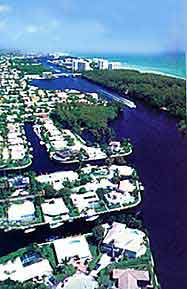 Fairways, greenways, beaches, parks, play areas, picnic facilities, jogging trails abound, as well as boating communities lace lavish Boca Raton.
AMENITIES
Typical "Mizner" home - with every feature within its 7,000
sq/ft including ocean views.
LUSH AND PLUSH LIVING
Boca Raton seen from the air, is a pleasing patchwork of mellow buildings surrounded by lakes and greenery. There are two miles of public beach and the Intracoastal Waterway flows more than seven miles through the town. Gardens, 24 golf courses, (including six public links) and a dozen or more community and regional parks with tennis courts, baseball-softball fields, football-soccer fields and basketball-volleyball courts, dot the scenery . Parks range from pocket handkerchief open spaces and small neighborhood areas to Sugar Sand Park's 132-acres complete with jogging trails, children's play area, playgrounds picnic table, cycling and walking paths as well as canoe rentals and fishing areas.

Along the beach, Red Reef Park on North Ocean Boulevard covers 67 acres with a boardwalk, children's play area, picnic facilities and barbecue grills. Spanish River Park has a broad sandy stretch on the ocean and nature trails through dense vegetation across Highway A1A.

South Beach Park invites beach strolls in a serene natural setting. At the Gumbo Limbo environmental complex you can observe snakes, baby sea turtles and bees in their hive and a variety of exhibits at the Nature Center.

Ever since the bulldozers began rolling across west Boca's scrubland twenty-five years ago Boca Raton has grown to include communities catering to many lifestyles -- families or fairways, boating or beachcombing, sizzling or sedate. Boca is booming, not only with baby boomers, but also with empty nesters, retirees, second- third- or fourth-home buyers and gen X-ers. The Boca Raton/ Delray Beach area boasts some 30 luxury home developments built within the last few years. Buyers looking to spend from the low hundred thousand to millions for a home have an overwhelming choice although style-wise the Southern Mediterranean influence still predominates.

---
---