---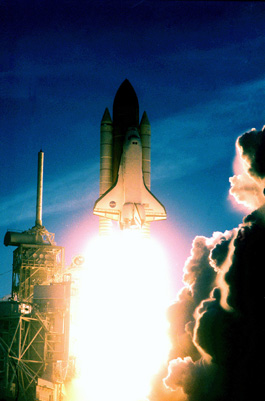 The giant engines begin to rev up. Even from where you're standing, a safe 10 miles away, you can see the smoke billowing out from underneath.
The very air seems to vibrate, as much with anticipation as with the hum of the powerful rockets.
Now comes a reverberation strong enough to rattle your molars. And you tilt your head back, back, back as you follow the space shuttle streaking through the azure Florida sky on its trip toward the cosmos.
They simply don't have this at the theme parks, folks. Welcome to the Space Coast, a high-tech haven in northern Brevard County that's home to Kennedy Space Center, the nation's largest launch facility and the only facility to handle human-occupied flights. If you dream of touching the stars, even by proxy, you've come to the right place. (If you're a real back-to-nature type, you, too, are in the right place. Click here for the all-natural side of the Space Coast.)
Before we get into what you can see and do, we need some background. American scientist Robert Goddard launched what is considered to be the first guided rocket in 1926. They were proven as weapons of destruction in World War II. Humans didn't use them as transportation until the '50s and '60s, when the U.S. and the Soviets competed to be the first into space (uh, they won). American space efforts centered around the east-central Florida coast, largely because it had decent weather, an ocean nearby for splash landings and very few people.
The rocket industry has become a major tourist industry, luring more than 2 million people a year to an area that has considerably more people than it used to, but still retains a lot of wilderness.
Early launches went off from Cape Canaveral. These days, the shuttle goes off from KSC, either from pad 39A or 39B. Unmanned rockets -- Delta, Titan and Atlas/Centaur -- are still launched from the Cape.
The U.S. has had some amazing successes -- putting men on the moon (July 1969) and launching a craft that could go into outer space and come back to be used again -- as well as some close calls -- Apollo 13's explosion and loss of power that nearly stranded three astronauts in space.
Watching a launch

If you want to get a gander at a launch, you'd best plan ahead. It's tough to overstate how crowded the area can be. Those who tarry can end up on the shoulder of the road somewhere trying to see around some tall guy wearing a hat.

Assume you plan ahead -- where can you go? If you're really somebody, like Bill Clinton, you get the best spot: NASA's VIP site, accessible only by special bus. The press has its own viewing area, but you have to be a bona fide member of the fourth estate to qualify. If you know anybody who works at KSC, kiss up: employees have access to special passes that'll get you near the press site.

If you're just J.Q. Citizen, you still have some pretty good options:

-- A car pass. These allow you to park on KSC property. The primo spot is the NASA Parkway Causeway over the Banana River; it's just south of the launch pads with an unobstructed view of the action. But apply early: Tickets are issued on a first-come, first-served basis. Send a postcard with your name, address and the mission number of the launch you want to see to: Car Passes, PA-PIB, KSC, FL 32899. You'll get the pass about three weeks before the launch.

For all on-site viewing spots, you need to arrive about two hours before the launch and be prepared to stay through the entire launch window.

-- KSC Visitors Complex has an all-inclusive ticket price. $26 for adults, and $16 for children ages 3-11. Groups can get reduced rates. That price includes the bus tour, both IMAX films (The Dream is Alive & L-5, First City in Space a 3-D IMAX film), Astronaut Encounter (a real astronaut appears daily), Space Shuttle Replica, Rocket Garden, Robot Scouts, Exploration in the New Millenium, Universe Theatre and all exhibits and displays.
You can call ahead to reserve: 321-452-2121.

-- On your own. Try these locations:
-- Anywhere along the Indian River on U.S. 1, especially in Titusville. A few particular goodies: Sand Point Park, the Mercury 7 Monument at the Space Walk Hall of Fame, on the water side where U.S. 50 meets U.S. 1, and Astronaut Hall of Fame at the entrance to NASA Parkway.
-- State Road 528 where it crosses the Banana River.
-- Jetty Park near Port Canaveral.
-- Along the beach in Cocoa Beach, and especially at the end of the Cocoa Beach Pier.
-- Couch-potatoes take note: Several area hotels have clear views of the launch, either from a special shuttle watching area (usually a deck) or from some of the rooms (Holiday Inn-Kennedy Space Center in Titusville is a good one for this). You also can watch from your boat, just remember that some areas are off limits.

A couple other tips: This is an outdoor spectacle. Humidity, high temperatures, bugs, even a little rain won't stop the show. Bring an umbrella, bug spray and water. You may want to tote your own chair or blanket as well. If you're on-site, make sure the car has enough gas; the nearest station may be 10 miles away.

For info about shuttle launches: 321-876-4636, or www.shuttle.nasa.gov, www.ksc.nasa.gov or www.kscvisitor.com

There have been tragic failures as well: Three Apollo astronauts, Gus Grissom, Edward White and Roger Chaffee, died when fire swept through their capsule during training tests in January 1967. And in January 1986, in an event televised worldwide, the shuttle Challenger exploded and crashed into the ocean; five astronauts and two non-NASA personnel, including teacher Christa McAuliffe, died.

Though shuttle launches have been safe and successful since Challenger (though a recent flight was delayed by hail damage), recent rocket launches seem to be harkening back to the difficulties of the early days. Six rockets have failed since last August, costing taxpayers and aerospace firms some $3.5 billion and prompting President Clinton to order a Department of Defense investigation. It's the worst string of failures since the mid-'80s.

For space junkies, the top of the "right stuff" pyramid is Kennedy Space Center, called KSC by those in the know. The first stop is the Visitors Center, and -- here's the best part: it's free. (By the way, real work goes on at other parts of KSC and many locations are off limits.)

At the center, Space Shuttle Plaza offers a full-size model of a shuttle that you can walk through. A small fee (about $4, but prices do change) gets you in to a Galaxy Theater IMAX film, shown on an eye-popping 5 1/2-story screen. One of the features, Blue Planet, is an incredible look at earth from space.

Then it's time for a tour ($7 for adults). Unless you're a real Mercury freak, go for the one that takes you out to the shuttle stuff.

Other space-related sites to check out:

-- Astronaut Hall of Fame: Astronaut history and fun trivia (even Buzz Aldrin's report card). 321/269-6100.

-- U.S. Space Camp: Studying science has never been so cool. 321/267-3184; 800-637-7223.

-- Space Walk of Fame: A memorial to Project Mercury, which put the first Americans into space. On the western bank of the Indian River in Titusville.

-- Astronaut Memorial Planetarium and Observatory: Houses the state's largest public-access telescope, which you can look through for free. 321/532-1111, ext. 63504.

-- Warbird Air Museum; OK, technically not a space thing, but it has exhibits of historic military aircraft from World War I through Vietnam. Titusville; 321/268-1239.