---
More Absolutely Florida
---
Universal Studios Florida
Islands of Adventure
A 9-year old's Review
---
The 'Escape' concept is designed to allow visitors to stay in the park, rather than elsewhere, in themed hotels to cater to every taste. Five will be eventually built, including the Hard Rock Hotel, opening next year, and the Royal Pacific Resort, the year after that.
---
The 750-room Portofino Bay Hotel is a joint venture between Loews Hotels and Universal Studios. Situated on a lake, replete with old-world fishing boats, guests board a water taxi from the jetty that takes them via a canal directly into the Park. This saves the tedium of parking the car, as well as creating a pleasant mood before the ensuing mayhem of the new rides at Islands of Adventure which, along with the rest of the park's attractions, will be open an hour early exclusively for hotel guests.
The town of Portofino is eerily reproduced, with expert aging and patina work on the outside of the buildings to give it that lived-in look. This is really a grand hotel in clever disguise, and it works very effectively. There's lots of nooks and crannies to explore, just like in a real little town. What brings Portofino Bay into the 21st century is all the high-tech wizardry that's gone into it, such as a custom-designed curbside hand-held check-in device/credit card swiper that upgrades the tedious front-desk formalities to a Smart Room system that monitors guest rooms for malfunctions and lets housekeeping know if the room is occupied. The guest room key/card also functions as a credit card for use anywhere in Universal Studios, eliminating the need to carry cash. Kids can have their own cards, programmed with a pre-set spending limit (thank heavens!) and are issued with pagers for easy retrieval.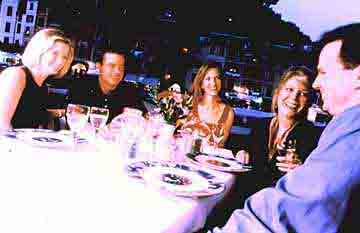 Orlando al fresco at Portofino Bay.

Kids can also have lots of fun in a specially designed child care area, video game arcade, or in one of the large hotel pools, set on a 'beach' with zero-entry (i.e., depth starts at zero) and an aqueduct that turns into a water slide (fun!)

The grown-up pool scene is a bit more sophisticated, with silver-tray poolside service and rentable cabanas. A 11,000 sq. ft. fully-featured Spa pampers and tones guests in typically fine style.

Meanwhile in the Piazza, you can grab a sandwich at Sal's Deli and eat it al fresco, cool off with an authentic Italian ice from the Gelateria or have a drink at the Bad Boy Bar, a cool hangout with lots of dark wood panelling. The second-floor Del Fino Riviera Restaurant will be a fabulous space to dine, with tall french windows giving out on the Piazza, high ceilings and Versace plates, yet the dress code will be casual.

The guest rooms are delightful and tranquil, with beautiful high beds dressed with top quality linens and specially designed thin duvets which are perfect for Florida. Bathrooms are unusually large, and italian accents abound, from custom tiles to cabinetry. A great deal of attention has been paid to every detail, with thoughtful touches like the personal coffee maker, plush robes for everyone (even the kids!) and a thoughtfully stocked mini-bar. There's even Nintendo for those who can't live without it.

Those well off enough for one of the 26 Villa rooms or suites will receive full butler service, from suitcase unpacking to laundry and concierge arrangements.