---
---
More Absolutely Florida .........Related Stories: Florida Spaaaaaas..........Save Your Skin .....Outdoor Fitness ......Jogging Memories
---
Region One
The Most Spectacular Spa
This Side of Heaven!

Nirvana Spa Miami Beach


Tel: 305-867-4850
Tollfree:1-800-355-0564
8701 Collins Avenue.
Miami Beach, Florida 33154

Nirvana unlocks the door to longevity & well-being with our full range of quality services unmatched anywhere - 40 different massage & body treatments, unique cedar Russian steamroom, Finnish sauna, aromatherapy steamroom, training gym, Jacuzzi, salon capsules, yoga, pilates, chirpractician, beauty salon, colonic hydrotherapy, juice bar, turkish haman, European waxing & much more!
Le Spa


Tel: 305-674-6744
150 8th Street
Miami Beach, FL 33139

"Le SPA" in Miami Beach based on the concept of Lancome Beauty School in Paris, uses techniques exclusively designed for Lancome. "Le SPA" treatments include facials, massages, manicure, pedicure, hair services make-up combining the use of specially composed music and soothing light. All Lancome products are sold in the premises.

Take your facial and body treatments from great to incredible!

Eva's European Spa


888-806-2525
305-864-3333
1037 Kane Concourse
Bay Harbor, Florida 33154


Facial & body treatments: seaweed body wrap, seaweed hydrotheraphy, Dead Sea salt & mud rehydration, paraffin hand & foot wrap, sun damage & age spots removal, Crystal microdermabration face, hand & body treatments. Carlsbad spa, cellulite reduction body, Ayurvedic body-mind euphoric relaxer treatments. Deluxe Day Spa Package: ampule nourishing facial w/natural body scrub, dead sea mud wrap & spa parafin foot treatment. Also permanent make-up: lip liner, eye liner & eyebrows.
Miami Laser Hair Removal


888-806-2525
305-864-3333
1037 Kane Concourse
Bay Harbor, Florida 33154


Offering the newest advanced technology for the removal of unwanted hair, with a totally safe, new laser hair removal system which can treat not only white skin, but can also safely remove hairs from any type or color of skin including Hispanic, Black, Mediterranean or Indian. Great for men also!

Massage by Design
305/532-3112
100 Collins Ave
Miami Beach Florida 33139

Camelot Salon & Spa
305/443-5953 866/317-6050
Coral Gables Florida

Come indulge in our world!

Aventura Holistic Day Spa


305-957-8814
Tollfree: 877-307-6639
17070 West Dixie Highway
Aventura, Florida 33160


Invest in yourself - Full day, half day & individual treatments for fitness of the mind, body, spirit & skin - Facials, massages, manicures, pedicures, waxing, body treatments, reflexology, Botox, Collagen, Yoga, laser hair removal, spider vien & broken capillary removal, natural mineral makeup & microdermabrasion. Visit our wonderful collection of Buddhas, exotic statues, kalagas & paintings (www.bankoktreasures.com).
305-459-7966
1400 Salzedo Street
Coral Gables, Florida 33134


Hair Care (

shampoo, cut/style, chignion, highlights, perms, relaxers, conditioning, decoloration, semi Di Lino conditioning

), Nail Care (

manicure, pedicure

), Skin Care (

facials, propolis intensive treatment, collagen/elastin, paraffin treatments

), Body Care (

body wrap, body polish, massage, reductor, citric exfoliation

), Hair Removal (

waxing for leg, bikini, underarm, chest, brow, chin, lip

).
Lyons Salon & Spa, A Wellness Retreat
305/663-1777 305/663-6049
7500 SW 61 Ave
South Miami Florida 33143

Kaffee's Garden Spa


Tel: 561-833-4483
Fax: 561-833-4222
4100 South Dixie Highway
West Palm Beach Florida 33409

Babor Institut Palm Beach
561/832-9385
301 Royal Poinciana Plaza
Palm Beach Florida 33480

Boca Raton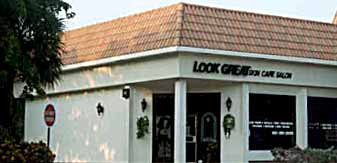 Look Great European Day Spa
Tel: 561/391-2030
771 East Palmetto Park Road
Boca Raton, Florida 33432


Collagen, Botox™, Obagi Nuderma, chemical peels & laser hair removal (doctor & nurse on premises), European aromatherapy oxygen facials, Glycolic treatments, waxing, electrolysis, massage, loofah scrubs, body wraps, reflexology, seaweed, cellulite treatments, full-body mask, brow & lash tint. Unisex salon w/complete hair, nails & makeup services. Specializing in weddings. Tuesday - Saturday 9 am - 6 pm; Thursday 9 am - 8 pm; Sunday & Monday by appointment.

Diamante' Day Spa
954/763-1212
1489 South East 17 Street Causeway
Fort Lauderdale, Florida 33316

Diva's Day Spa
954/771-9772
4242 N. Federal Hwy.
Plantation, Florida 33308

Contour Day Spa
954/472-7733
455 SW 78th Avenue
Plantation, Florida 33324

L`Escapade Spa and Salon
954/742-4441
Sunset Square Plaza
2111 N. University Drive
Ft. Lauderdale, Florida 33322

Region Two
New Smyrna Beach
Advanced Beauty Care's Day Spa
386/428-8122
213 Flagler Avenue
New Smyrna Beach Florida

Stuart
Le Massage Spa
209 S. Federal Hwy.
Stuart Florida 34994

Melbourne
Imperial Salon & Spa
321/254-4432
3 Suntree Place
Melbourne Florida 32940

La Bella Spa
321-453-1510 321-453-1669
3505 Courtenay Parkway
Merritt Island Florida 32953

Region Three

Gainesville
Cloud 9 Spa-Salon
352/335-9920
6500 SW Archer Road
Gainesville Florida 32608

St. Augustine





Small Indulgences European Day Spa & Salon


904/824.6220 ,,,, 800/824.9899
9 Sanchez Avenue
St. Augustine Florida 32084

Walk through our doors, and begin to unwind in the comforts of Small Indulgences European Day Spa & Salon. Here, luxurious Spa treatments and total hair care fuse, creating a memorable body and mind experience. Take a vacation away from the everyday and let our professional staff indulge your senses.
Body & Sole


Tel: 727/725.3255
Tollfree: 877/725.3255
Fax: 727/725.2925
400 2nd Street North
Safety Harbor Florida 34695

Sanibel
Blue Skies Body Works of Sanibel
4301 Sanibel CAptiva Road
Sanibel FL 33957
239-472-0116

Sanibel Day Spa
239/395-2220 Tollfree: 877/695-1588
2075 Periwinkle Way, Unit 27
Sanibel Island Florida 33957

Naples
Lasertrolysis of Naples
239/403-4363 Tollfree: 888/374-5272
2335 9th Street North, Suite 508
Naples Florida 34103

Everglades City



Tel: 239/695-1006
239-695-3151
Post Office Box 246
201 West Broadway
Everglades City Florida 34139
Relax and rejuvenate with a splendid massage or facial. Spa-Fari Offers Aromatherapy Facial, 'Everglades Mud Mask,' Oxygen Facial , Ginseng & Pearl Hydrating Mask, Glycolic Polymer Adult and Adolescent Acne treatments, Scar Reduction, Chiral-A Products, Discoloration / Age Spots, Paraffin Wax, Make-Up, Eye-Lash & Brow Tinting, Dermaplaning.


Marco Island
Seaside Day Spa
239/393-2288 Tollfree: 888/393-4SPA
651 S. Collier Blvd
Marco Island Florida 34145


Region Five
Greater Sarasota
The Springs


Tel: 941/426-1692
Fax: 941/429-9183
12200 San Servando Avenue
Warm Mineral Springs, Florida 34287
Capriccio EuroSalon and Day Spa
Tel: 941/924-5969
5252 S. Tamiami Trail
Sarasota Florida 34231

Clearwater

Irene's European Day Spa


Tel: 727/462-8131
Tollfree: 800/390-1821
630 Cleveland Street
Clearwater, Florida 33755

St. Petersburg
Nirvana Salon & Day Spa
727/576-8415
11028 4th Street North
St. Petersburg, Florida 33716

Eclips Day Spa & Salon
501 Fifth Avenue NE
St. Petersburg Florida 33701

Tampa
Cassandra's Salon & Day Spa
813/831-3300
3301 S. Westshore Blvd.
Tampa Florida 33629

Kennedy Salon & Day Spa
813/254-0012
220 Howard Ave.
North Tampa Florida 33606

New Port Richey
A Secret Garden Spa
727/849-8822
5807 Main St.
New Port Richey Florida 34652

Region Six
Pensacola

Body Indulgence
850/433-3383
102 E Garden St.
Pensacola, FL 32501

Tallahassee
Artisan Salon and Spa
850/878-7722
1305 N Paul Russell Rd
Tallahassee, FL 32301
Better Living Day Spa
850/222-7588
727 N Calhoun St
Tallahassee, FL 32303

Destin
Art of Relaxation
850/837-9028
4641 Gulfstarr Drive, Suite 104
Destin, FL 32541
Forte Salon


Tel: 407/916-2242
8701 Maitland Summit Blvd.
Orlando, Florida 32810


Winter Park
Euro Day Spa & Salon
407/740-0444
800 Formosa Ave
Winter Park Florida 32789

Heathrow
Bellamia Salon & Day Spa
407/333-3571
120 International Parkway, Suite 128
Heathrow Florida 32746

---