---
Related stories: Seminole History Seminole Attractions Seminole Patchwork Billy's Swamp Safari Publisher's Note
---


The Ah-Tha-Thi-Ki Museum
by Victoria Westermark-Many Bad Horses

When translating from Seminole into English, "Ah-Tha-Thi-Ki" means "a place to remember." More literally, it can be translated, "I forgot, but remembered."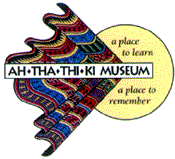 And remembering is what the Seminole nation has thrown their efforts into since 1988. At the spiritual heart of their world in Florida where alligator meets steel, the tribe is constructing the Ah-Tha-Thi-Ki Museum. Upon completion it will house hundreds of exhibits, thousands of artifacts, large outdoor native villages, a research library, and seminar areas.
Built from the tribe's bingo gaming proceeds, the museum aims to preserve culture, educate the Seminole people themselves, and finally reveal the Seminole who have long found it wiser to keep to themselves, to the outside world. To Dade Archaeologist Bob Carr, that's "remarkable and historic, the first time the Seminoles have had the money and willingness to say to the world: 'This is who we are.'"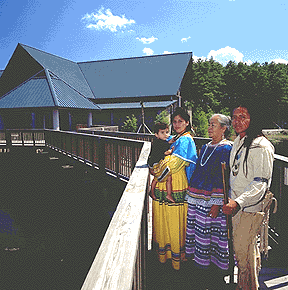 Photo courtesy of the Seminole Tribe of Florida
The Ah-Tha-Thi-Ki Museum in Big
Cypress Reservation is scheduled to
open this fall.

In 1858, after three Seminole Wars instigated by the US Government and Southern slave owners eager to recapture runaway slaves, only about three hundred Seminoles remained alive in Florida. Those few who survived disappeared into the swamps, and many physical remnants of their culture disappeared.

In a piece by Herald staff writers John Barry and Donna Leinwand, Museum Curator David Blackard reports that the museum decided to "pick up the trail" in 1880, several decades after the Seminoles disappearance into the Everglades and when they began to re-establish limited contact with "whites." Patsy West, Blackard's wife, will supply 10,000 photographs of the Seminoles dating back to the postwar era. Other materials will be loaned by national museums and private collectors.

Eventually, under a program guided by the U.S. Congress and BIA, the Seminoles will be able to regain all artifacts now held in the collections of the Smithsonian Museum in Washington, D.C., and the Heye Museum in New York City.

The process of preserving culture and native language has been complex. Often the U.S. Government had as its policy the obliteration of Indian culture. What remained after the assaults on many Indian cultures was often kept secret.

"Remembering" on the Kissimmee Billie Swamp at the Big Cypress Reservation is an important step in understanding the efforts at sparking cultural pride among not just the Seminoles, but other tribes as well. The ambitious work at the Ah-Tha-thi-Ki speaks to nationwide efforts underway by many tribal groups. What we learn about our past may tell us about our future together.
---
--- The Ah-Tha-Thi-Ki Museum, at HC-61, Box21-A, Clewiston, FL 33440, Phone # (954)-792-0745 is scheduled to open fall of 1997. Call for details. Related Article: "Seminole Soul-Searching," by John Barry and Donna Leinwand.