---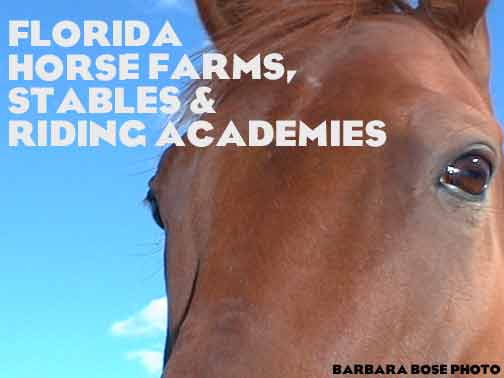 Florida FUN



Florida has always been horse country. Back in the old days - about 30 million years ago - tiny horses just a few feet high galloped across the prehistoric landscape, hoping to escape Titanis walleri, a terrifying large bird which dined on them. In more recent memory, when Ponce de Leon visited Florida about five hundred years ago, he brought along cattle, horses and livestock. Over time, herds escaped here and there, and horses became a common site around the region.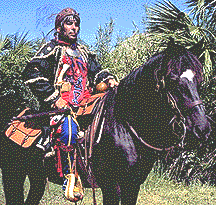 A Seminole Indian atop a Cracker Horse


photo courtesy Seminole Tribe of Florida

By the mid-1600's these hardy, adaptable Spanish horses had a well established hoof-hold in the region, being used by the Indians and pioneers alike as basic transportation, cow ponies, farm horses and later on, buggy horses. Named Cracker Horses after the Cracker people of old, who cracked their whips over the herds of the Spanish cattle, this unique breed have also been known as the Chickasaw Pony, Seminole Pony, Marsh Tackie, Prairie Pony, Florida Horse, Florida Cow Pony, and the Grass Gut. Fortunately the breed has been perpetuated by Florida ranchers well into this century, as they possess excellent herding instincts and quickness as cow ponies. Recently some were released on to Paynes Prairie State Preserve, where thousands once grazed.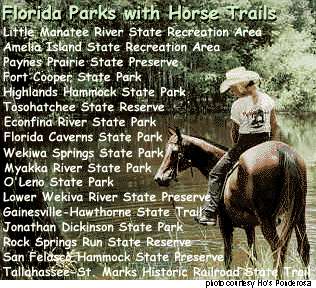 The inevitable development that accompanies the march of progress has taken over much of the wide open space once used for riding horses and herding cattle, relegating the cowboy era to bygone days. But Ho's Ponderosa in Bushnell, in Florida's West Central region, is a dude ranch that takes you back to those rough and ready wranglin' days. Participate in rodeo games and explore the scenic trails of the rolling hills near Withlacoochee State Forest, then gather round campfire for a chuckwagon meal. Personal horseback instructions for every experience level make this a nifty location for a very different weekend getaway or a corporate retreat. Noted Horse-Whisperer Frank Bell will be on hand there this month with an intensive clinic for serious bonding issues between horses and their riders.
Ocala, Florida, located in the north central region of the state, is well-known as a center for fine Thoroughbred horse farms. Blessed with land and water rich in calcium (vital for strong, athletic horses), plenty of rainfall for green pastures and a warm year-round climate, Ocala and surrounding Marion County is known as "The Horse Capital of the World." Picturesque rolling hills shaded by graceful Live Oaks create an idyllic backdrop for the headquarters of the Florida Thoroughbred Breeders' And Owners' Association, whose website features the state's "bragging rights": $100 million in purse money annually, 40 national champions, 59 equine millionaires, 17 Breeders' Cup Day Champions, six Kentucky Derby winners, six Preakness winners, and five Belmont Stakes winners. Florida's $4 billion Thoroughbred horse industry provides 30,000 jobs , the majority in surrounding Marion County. You learn about horse racing, the "Sport of Kings" on a 2-hour personalized farm tour of the beautiful area for just $5 per person, (352/351-5524 by appointment only).
Ocala is also the setting for the annual Ocala Scottish Games & Irish Feis (this year on November 15), which features Clydesdale "Driving Events," where this famous breed of giant draft horses compete in carriage pulling contests.
With its many rural destinations a natural setting for horse fanciers, even some of Florida's more metropolitan areas are horse-friendly. Davie, Florida, a western-style suburb of bustling Ft. Lauderdale, has a rodeo and a parking spaces for 4-legged vehicles outside the local restaurants and shops. Amelia Island in Florida's northeast corner provides picturesque horseback riding on the beach while in Central Florida, horse campers are welcome at Wekiva State Park, which offers an 8 mile trail along scenic country roads. And towards the southwest, in Myakka City, the original world-famous Royal Lipizzan Stallions train before going on their annual 6 month tour. Trainer Ottomar Herrmann's family has been training Lipizzans for 300 years before they were rescued by General Patton at the end of World War II. You can observe training sessions from January through March, call 941/322-1501 for days and times.
Wherever you are traveling within the Sunshine State, there's plenty of room for equestrians to enjoy the great outdoors from their very special vantage point. Following is a listing of stables, horse farms and ranches. Click the map or list of cities to jump quickly to your location of choice.
---
Related Story: South Florida: Winter Polo Capital of the World
---
REGION 1
Ft. Lauderdale Area
Sheridan Oaks Stable
13321 Sheridan St
Fort Lauderdale, Florida 33330
954/ 434-1808
Bar-b Ranch
4601 SW 128th Ave
Fort Lauderdale, Florida 33330
954/ 434-6175
Baybridge Riding Academy
16250 Saddle Club Rd
Fort Lauderdale, Florida 33326
954/ 389-5100
Braeburn Equestrian Center
150 SW 118 Ave
Fort Lauderdale, Florida 33325
954/ 476-8541
Competition Farms
13851 Luray Rd
Fort Lauderdale, Florida 33330
954/ 434-5869
Dockside Farm
11200 Orange Dr
Fort Lauderdale, Florida 33330
954/ 452-8696
Florida Fun In One Club
13607 Stirling Rd
Fort Lauderdale, Florida 33330
954/ 434-2046
Florida Fun In One Club Inc
13607 Stirling Rd
Fort Lauderdale, Florida 33330
954/ 434-9400
Frontier Village
5140 SW 64 Ave
Fort Lauderdale, Florida 33314
954/ 791-8102
Golden Fleece Farm
5501 Holatee Trl
Fort Lauderdale, Florida 33330
954/ 434-9216
Jet Show Stable
4660 SW 148 Ave
Fort Lauderdale, Florida 33330
954/ 680-8007
John Sessa Racing Stable
5200 Hancock Rd
Fort Lauderdale, Florida 33330
954/ 434-7137
Myrland Stables
5550 SW 73 Ave
Fort Lauderdale, Florida 33314
954/ 587-2285
Pegasus Ranch
5940 Griffin Rd
Fort Lauderdale, Florida 33314
954/ 581-9730
Pheonix Farms
12901 Stirling Rd
Fort Lauderdale, Florida 33330
954/ 680-2386
Riviera Rick- R & R Stables
7350 SW 39 St
Fort Lauderdale, Florida 33314
954/ 370-7431
Running Fox Farms
5710 SW 82 Ave
Fort Lauderdale, Florida 33328
954/ 434-9269
Saddle Up Stables
5125 SW 76 Ave
Fort Lauderdale, Florida 33328
954/ 434-1813
Shaw's Training Center Inc
1701 SW 139th Ave
Fort Lauderdale, Florida
954/ 423-0972
Sunshine Arabians Inc
4780 Hancock Rd
Fort Lauderdale, Florida 33330
954/ 434-3230
Winters End Farm
5250 SW 130th Ave
Fort Lauderdale, Florida 33330
954/ 434-7590
World Class Equestrian Center
5450 Hancock Rd
Fort Lauderdale, Florida 33330
954/ 434-9220
Greater West Palm Beach
Tara Farms
12223 Persimmon Blvd
West Palm Beach, Florida 33411
561/ 798-1094
Windward Way Farms
13345 57th Pl N
West Palm Beach, Florida 33411
561/ 798-0926
Prancing Horse Stables
10566 Acme Rd
West Palm Beach, Florida 33414
561/ 753-0812
Sea Ridge Farms Inc Ridng Academy
14052 50th St S
West Palm Beach, Florida 33414
561/ 798-0233
Romance Farms Inc
12981 Southshore Blvd
West Palm Beach, Florida 33414
561/ 753-0833
Trails West Stables
15781 93rd St N
West Palm Beach, Florida 33412
561/ 791-2920
Trails West Stables
15781 93rd St N
West Palm Beach, Florida 33412
561/ 791-2920
Wembley Farms Inc
12941 Southshore Blvd
West Palm Beach, Florida 33414
561/ 793-5112
Wildwind Stables
14000 Caloosa Blvd
West Palm Beach, Florida 33418
561/ 626-7891
Windward Way Farms
13499 Southshore Blvd
West Palm Beach, Florida 33414
561/ 798-0926
Jupiter
Lady Jean Ranch Elite Showhorses
10333 Randolph Siding Rd
Jupiter, Florida 33478
561/ 745-1300
Triple P Ranch
16561 105 Dr N
Jupiter, Florida 33478
561/ 744-1987
Lazy Lane Farms
17900 Haynie Ln
Jupiter, Florida 33478
561/ 575-0908
Giddy-up Pony Rides
17725 131 Ter N
Jupiter, Florida 33478
561/ 575-0578
Kroeger Paint Horse Farms
12390 Sandy Run Rd
Jupiter, Florida 33478
561/ 747-1787
Lady Jean Ranch-l J R Elite Showhorses
10333 Randolph Siding Rd
Jupiter, Florida 33478
561/ 745-1300
Reese Ranch Groves
8900 W Indiantown Rd
Jupiter, Florida 33478
561/ 746-5669
Delray Beach
Fantasia Farm
14830 Smith Sundy Rd
Delray Beach, Florida 33446
561/ 499-6383
Hunter's View
16343 1 Mile Rd
Delray Beach, Florida 33446
561/ 637-9117
Arlington Farms Inc
16380 1 Mile Rd
Delray Beach, Florida 33446
561/ 495-4308
Boca Raton Equestrian Center
16380 1 Mile Rd
Delray Beach, Florida 33446
561/ 637-0063
Bret Day Stables
16281 1 Mile Rd
Delray Beach, Florida 33446
561/ 637-2988
Emerald View Stables
16380 1 Mile Rd
Delray Beach, Florida 33446
561/ 637-0063
Excel Stables
16380 One Mile Rd
Delray Beach, Florida 33446
561/ 495-5661
Palm Beach Downs Training Center
10317 W Atlantic Ave
Delray Beach, Florida 33446
561/ 496-0044
Savile Row Stables
16380 1 Mile Rd
Delray Beach, Florida 33446
561/ 637-9307
Sunshine Meadows Standardbred Training Center
16668 Winners Cir
Delray Beach, Florida 33446
561/ 495-1455
Swedam Stable
16628 Winners Cir
Delray Beach, Florida 33446
561/ 498-1362
Thirty Something Stables Inc
16380 1 Mile Rd
Delray Beach, Florida 33446
561/ 637-9737
Lake Worth
Helen Varble Riding School
13159 57 Pl S
Lake Worth, Florida 33467
561/ 791-3424
Aztec Acres Ranch
4380 Hunting Trl
Lake Worth, Florida 33467
561/ 969-3444
Lantana Riding Academy
5360 Oldsmobile Dr
Lake Worth, Florida 33463
561/ 968-5311
Lucky Star Equestrian Center
4380 Hunting Trl
Lake Worth, Florida 33467
561/ 969-3444
Rocking Horse Ranch
4732 Canal 14 Rd
Lake Worth, Florida 33463
561/ 965-1246
Willowood Stables
4720 Melaleuca Ln
Lake Worth, Florida 33463
561/ 968-3508
Wellington
Palm Beach Equestrian Center
14052 50th St S
Wellington, Florida 33414
561/ 753-3815
Southern Cross Inc
13202 50th St S
Wellington, Florida 33414
561/ 790-4847
Loxahatchee
Blue Rose Acres
3176 161 Ter N
Loxahatchee, Florida 33470
561/ 798-2725
Horsemans Paradise
2942 B Rd
Loxahatchee, Florida 33470
561/ 791-7866
In Harmony Farm
1215 B Rd
Loxahatchee, Florida 33470
561/ 795-0257
T L P Stables Inc
14270 87th Ct N
Loxahatchee, Florida 33470
561/ 792-3210
Boynton Beach
Castlewood Blackwood Farms
8056 96 Ct S
Boynton Beach, Florida 33437
561/ 375-8833
Country Club Stables
4753 Golf Rd
Boynton Beach, Florida 33436
561/ 732-8034
Raborn Farm 32 Country Road
Village Of Golf
Boynton Beach, Florida
561/ 736-0482
Stellar Equine Center Inc
9527 87 Pl S
Boynton Beach, Florida 33437
561/ 732-8255
Wyndhurst Stables
6855 102 Pl S
Boynton Beach, Florida 33437
561/ 736-6097
Pompano Beach
Jumping Springs Farm Inc
6221 Lyons Rd
Pompano Beach, Florida 33073
954/ 427-6188
Greater Miami
Ascot Farm
12445 SW 46th St
Miami, Florida 33175
305/ 559-7868
C H R Quarter Horses Inc
6152 SW 123rd Ave
Miami, Florida 33183
305/ 598-9800
D & S Horse Farm
6815 SW 125th Ave
Miami, Florida 33183
305/ 598-9130
Dade Riding Club Inc
16400 SW 117th Ave
Miami, Florida 33177
305/ 827-1659
El Paso Ranch
18351 SW 184th St
Miami, Florida 33187
305/ 235-7276
La Esperanza Horse Ranch Inc
20750 SW 136th St
Miami, Florida 33196
305/ 378-5551
Lakeside Farms
6100 SW 125th Ave
Miami, Florida 33183
305/ 274-8777
Rockin' n Ranch
1725 NW 135th St
Miami, Florida 33167
305/ 891-9512
Southwinds Equestrian Center Inc
6201 SW 122nd Ave
Miami, Florida 33183
305/ 279-0189
Villafran Farms
19525 SW 142nd Ave
Miami, Florida 33177
305/ 233-8596
Wright's Windswept Farm
22155 SW 147th Ave
Miami, Florida 33170
305/ 258-3607
Perrine
El Sueno Ranch
19890 SW 180th Ave
Perrine, Florida 33187
305/ 251-0155
Homestead
Bougainvillea Horse Farms
15460 SW 256th St
Homestead, Florida 33032
305/ 248-9177
Modelo Ranch
26205 SW 197th Ave
Homestead, Florida 33031
305/ 245-6005
Opa Locka
Diamond Luck Stable
21001 NW 27th Ave
Opa Locka, Florida 33056
305/ 621-5163
Shawn Musgrave Stable
21001 NW 27th Ave
Opa Locka, Florida 33056
305/ 621-5163
Racetrack Training Center Inc
20775 NW 17th Ave
Opa Locka, Florida 33056
305/ 625-7618
---
REGION 2

Cape Canaveral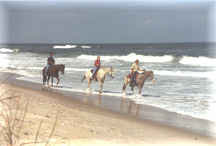 Ace of Hearts Ranch
7400 Bridal Path Lane
Cocoa, Florida 32927
407-638-0104
E-mail Us!
Beach & Trail Rides - Fulfill your fantasy while riding on one of the most pristine beaches in the world with the Kennedy Space Center in the backdrop! Enjoy horseback riding on the Canaveral National Seashore or take in hours of beautiful Florida trails. $20.00 per person.

Daytona Beach Area
Carriages By Foxmoor
2089 Avocado Dr
Daytona Beach, Florida 32124
904/ 252-8354

Shenandoah Stables
1759 Tomoka Farms Rd
Daytona Beach, Florida 32124
904/ 257-1444

Coronado Farms
2000 S Pineville
Edgewater, Florida
904/ 427-2142

Canter Down Farms
3642 Pepper Ln
New Smyrna Beach, Florida 32168
904/ 428-0773

Goodrich Ranch
295 W Putnam Grove Rd
Oak Hill, Florida 32759
904/ 345-1516

Horseshoe Farms
2499 Durrance Ln
Ormond Beach, Florida 32174
904/ 672-1496

Matanzas Meadows Equestrian Stables
5000 Old Kings Rd N
Palm Coast, Florida
904/ 446-4237
---
REGION3
Jacksonville Area
Can Do Farm
12561 Aladdin Rd
Jacksonville, Florida 32223
904/ 268-0227

Waters Edge Farm
7450 Park City Dr
Jacksonville, Florida 32244
904/ 779-2034

Coach & Carriage Of Mandarin
2829 Westberry Rd
Jacksonville, Florida 32223
904/ 268-3555

Crystal Springs Stables
9069 Crystal Springs Rd
Jacksonville, Florida 32221
904/ 781-6164

Diamond D Rent Horse Stables
5903 Solomon Rd
Jacksonville, Florida 32234
904/ 289-9331

Florida Horse Ranch
13855 Old Plank Rd
Jacksonville, Florida
904/ 266-4954

Horse Creek Farm
1385 Scott Rd
Jacksonville, Florida 32259
904/ 287-3109

Rainbow Riders Saddle Club
8351 Walden Rd
Jacksonville, Florida 32244
904/ 772-0202

Sawgrass, Stables
239 Marsh Landing Pkwy
Jacksonville, Florida 32250
904/ 285-3791

Towne & Country Stables
4741 Reed Ave
Jacksonville, Florida 32257
904/ 268-7129

Windemere Farms
6900 Morse Ave
Jacksonville, Florida 32244
904/ 777-5650

Ponte Vedra Beach
Chesapeake Farms
276 Roscoe Blvd N
Ponte Vedra Beach, Florida 32082
904/ 285-9016

Florio Palm Valley Ranch
505 Ranch Rd
Ponte Vedra Beach, Florida 32082
904/ 285-2743

Palm Valley Equestrian Center
258 S Roscoe Blvd
Ponte Vedra Beach, Florida 32082
904/ 285-8021

Saint Augustine Area
Dexter Farm
10840 Old Dixie Hwy
Saint Augustine, Florida 32095
904/ 808-7017

Middleburg
Hoofbeat Hollow Hunter Barn
3021 Black Creek Dr
Middleburg, Florida 32068
904/ 282-8860

A Circle C Ranch Of North Florida
2956 County Road 220
Middleburg, Florida 32068
904/ 272-6659

Hoofbeat Hollow Inc
3021 Black Creek Dr
Middleburg, Florida 32068
904/ 282-8860

Hunter's Choice Farm
1768 Russell Rd
Middleburg, Florida 32068
904/ 282-8272

Elkton
Tall Pines Dude Ranch
6720 Sr 207 Elkton
Elkton, Florida 32033
904/ 692-2498

Amelia Island
Seahorse Stables
Highway A1a
Amelia Island, Florida 32034
904/ 261-4878

Green Cove Springs
Magnolia Point Stables
1611 Colonial Dr
Green Cove Springs, Florida 32043
904/ 284-3343

Gainesville Area
Nighthorse Stables At Alpine Ranch
22115 W Newberry Rd
Newberry, Florida 32669
352/ 472-5003

Rockin' l Farms
7410 NW 131st St
Gainesville, Florida 32653
352/ 332-6632

Sunshine Stables Of Gainesville
17708 N State Rd 121
Gainesville, Florida 32653
904/ 462-1603

Williamson Farm
1900 NW 98th St
Gainesville, Florida 32606
352/ 332-1114

Eagles Rest Ranch
3505 Se 20th Dr
Gainesville, Florida 32641
352/ 377-6030

Glidewell Jimmy Stables
Gainesville, Florida
352/ 377-8842

Greathouse Farm & Equestrian Center
11004 SW 67th St
Gainesville, Florida 32608
352/ 376-7762

Moon Lake Stud
3005 NW 63rd St
Gainesville, Florida 32606
352/ 371-7669

Alachua
Cedarfields Farms
5918 NW 158th
Alachua, Florida 32615
904/ 462-5513

Evansong Farm
23407 NW 91st St
Alachua, Florida
904/ 462-7020

Rolling Acres Farm Inc
8303 NW 143rd St
Alachua, Florida 32615
904/ 462-7183

Newberry
Alachua County Equestrian Center
16525 SW 5th Pl
Newberry, Florida 32669
352/ 472-6009

Iron Horse Ranch
Highway 26
Newberry, Florida
352/ 472-4937

Sun King Stables At Alpine Ranch
22115 W Newberry Rd
Newberry, Florida 32669
352/ 472-5003

Archer
Goldenwood Farm
5818 S W 177th St
Archer, Florida
352/ 495-9497


---
REGION 5
Bushnell


Ho's Ponderosa Dude Ranch
7804 SW 90th Ave.
Bushnell, FL 33513
Reservations 352-793-9044
1-800/794-2768
Fax: 352/793-9045
Group Sales: 352/793/9045
Email Us!
The only real Dude Ranch in Florida! Rolling hills, 21,000-acre forest, riding trails, recreated rustic tin-roofed buildings, western-themed rooms, horses for your level of ability, or bring your own! Three hearty ranch meals daily, western barbecues, live entertainment, arena events, hiking, swimming, volleyball, horseshoes, croquet, badminton, scavenger hunts, haywagon rides & more!

Tampa
Cypress Stables
11010 Sheldon Rd
Tampa, Florida 33626
813/ 926-1140

Even Keel Farm Inc
5305 Interbay Blvd
Tampa, Florida 33611
813/ 831-8659

Five Gaits Farm Of Florida Inc
10502 Henderson Rd
Tampa, Florida 33625
813/ 963-7781

Hire A Pony Riding Academy
8005 S Race Track Rd
Tampa, Florida 33635
813/ 855-8992

In The Breeze Seminole Club
7614 Gardner Rd
Tampa, Florida 3362
5 813/ 264-1919

J R's Training Ctr
6508 36th Ave S
Tampa, Florida 33619
813/ 626-3449

Sarasota
Royal Lipizzan Stallions Training Center
941/322-1501
---
REGION 6
Pensacola
Pine Forest Stables
1901 Cope Ln
Pensacola, Florida 32526
850/ 944-1293

Milton
Sundowners Riding Stable
3301 Gene Floridaeming Rd
Milton, Florida 32570
850/ 957-4621

Tallahassee
Black's Horses & Ponies Inc
850/ 893-7212
Rr 3 Box 620
Tallahassee, Florida 32308

Blackwater Creek Stables
850/ 877-0260
3715 Homestead Rd
Tallahassee, Florida 32308

Carpe Diem Farm
850/ 942-8558
Miccosukee Rd
Tallahassee, Florida 32308

Coventry Farms
850/ 385-9142
2244 Danshire Dr
Tallahassee, Florida 32308

Fort Barton Stable
850/ 576-7433
Bluntstown Hwy
Tallahassee, Florida 32310

Happy Trails Ranch
850/ 893-0771
6776 Quail Valley Rd
Tallahassee, Florida 32308

High Point Stables Inc
850/ 894-2552
Centerville Rd
Tallahassee, Florida 32308

Lenrich Farms
850/ 878-6207
Baum Rd
Tallahassee, Florida 32311

Little Pond Farm
850/ 668-4862
5290 Crump Rd
Tallahassee, Florida 32308

Moccasin Gap Farm
850/ 668-6771
13681 Moccasin Gap Rd
Tallahassee, Florida 32308

Natural Bridge Stables
850/ 421-4843
Old Plank Rd
Tallahassee, Florida 32311

Nobility Stables Inc
850/ 893-7433
12128 Sunray Rd
Tallahassee, Florida 32308

Saddlebrook Farm
850/ 668-1723
Old Water Oak Rd
Tallahassee, Florida 32312

Cavallo Farms
850/ 668-7974
4300 N Meridian Rd
Tallahassee, Florida 32312


---
REGION 7
Ocala
Black Bell Farm
5101 SE 44th Ave Rd
Ocala, FloridaÊ 34480 Ê
352/624-3051

Bridlewood Farms
8318 NW 90 Ter (CR 326)
Ocala, FloridaÊ 34482 ÊÊ
352/622-5319

Cloverley Farm
5201 NW 144th Pl
Reddick, FloridaÊ 32686-9746
352/591-1745

Double Diamond Farm
899 SW 85 Ave
Ocala, Florida 34474
352/237-3834

Dudley Farm
5340 SW College Rd
PO Box 770038
Ocala, FloridaÊ34477
352/237-3413

Bonnie Heath Farm
4450 SW College Rd
Ocala, FloridaÊ 34474
352/873-3030

Hooper Farms Ê
12870 W St Rd 40
Ocala, FloridaÊ 34481 ÊÊ
ÊÊ 352/237-2104

Kinsman Stud Farm
3727 SW 95th Ave Rd
Ocala, FloridaÊ 34481 Ê
352/237-3303

Live Oak Stud
9275 SW 9th St Rd
Ocala, FloridaÊ 34481
352/854-2691

Marablue Farms
3900 NW 165th St
PO Box 108
Reddick, Florida 32686
352/591-2679

Mockingbird Farm
5850 SW St Rd 200
Ocala, FloridaÊ 34476
352/237-3604

Paradise Ranch
11851 W Hwy 326
Ocala, Florida 34482
352/629-1942

Quiet Hill Farm
PO Box 2586
Ocala, FloridaÊ 34478-2586
352/629-6660

Shadyhill Farm
4900 NW 27th Ave
Ocala, FloridaÊ 34475
352/732-6500

Sherman Oaks Arabians
8711 W Hwy 40
Ocala, Florida 34482
Ê 352/237-3000

The Stallion Barn
2900 NW 60th Ave
Ocala, Florida 34482
904/237-3730 or 904/622-4423(R)

Suncatcher Farm
20736 NW 100th Ave Rd
PO Box 417
McIntosh, FloridaÊ 32664-0327 352/591-2569

T-Square Stud
ÊÊ PO Box 900
Fairfield, FloridaÊ 32634-0900
352/591-2924

Tartan Farms Corp.
5910 SW 44th Ave
Ocala, FloridaÊ 34476
ÊÊ 352/237-2151

Young's Paso Fino Ranch
8075 NW SR 326
Ocala, FloridaÊ 34482
Ê 352/867-5305 or 352/867-5273

Don Stewart Stables
13449 NW 82nd Street Rd.
Ocala, Florida 34482
352/ 368-7766

Oak View Riding Stables
352/ 237-8844
3301 SW 27th Ave
Ocala, Florida 34474

Omega Stables
12101 N Magnolia Ave
Ocala, Florida 34475
352/ 840-0334

Weathervane Riding Ctr
6800 SW 66th St
Ocala, Florida 34476
352/ 237-3743

City Slickers Ranch Parties
2830 Se 31st St,
Ocala, Florida 34471
352/ 694-8119

La Primavera Polo Farm
12830 SW 16th Ave
Ocala, Florida 34473
352/ 307-0077

Who Cares Farm
1505 SW 80th St
Ocala, Florida 34476
352/ 873-8773

Greater Orlando
Barefoot Stables
9650 Berry Dease Rd
Orlando, Florida 32825
407/ 273-9550

Brookmore Farms
1905 Lee Rd
Orlando, Florida 32810
407/ 521-7387

Chaney Stables
6919 Pershing Ave
Orlando, Florida 32822
407/ 658-2002

Devonwood Stables
2518 Rouse Rd
Orlando, Florida 32817
407/ 273-0822

Grand Cypress Resort
1 Grand Cypress Blvd
Orlando, Florida 32836
407/ 239-1938

Rising Star Equestrian Center
10815 Tyson Rd
Orlando, Florida 32832
407/ 273-6105

Kendon Horse Park
632 Sunflower Trl
Orlando, Florida 32828
407/ 568-4282

Win Pines Stable
13614 Narcoossee Rd
Orlando, Florida 32827
407/ 282-8911

Sunspot Stables
3989 N Tanner Rd
Orlando, Florida 32826
407/ 281-6340

Kissimmee
Horse World Riding Stables
3507 S Poinciana Blvd
Kissimmee, Florida
407/ 847-4343

Sean Lake Stables
700 N Roma Way
Kissimmee, Florida 34746
407/ 396-0574

Horse World
3705 S Poinciana Blvd
Kissimmee, Florida 34758
407/ 847-4343

Tindall Acres Equestrian Center
3105 Tindall Acres Rd
Kissimmee, Florida 34744
407/ 957-0980

Geneva
Equestrian Quest
4355 County Road 426
Geneva, Florida 32732
407/ 349-9706

Sea Horse Ventures
505 Old Mims Rd
Geneva, Florida 32732
407/ 349-9088

Todd Reffitt Quarter Horses
Geneva, Florida
407/ 349-9694

Oviedo
Brookmore Farms
900 W Chapman Rd
Oviedo, Florida 32765
407/ 365-8604

Barrett Farm Inc
5100 Double R Ln
Oviedo, Florida 32765
407/ 365-5456

Classic Stables
Oviedo, Florida
407/ 295-1400

Country Stable
1990 Brooks Ln
Oviedo, Florida 32765
407/ 977-3444

Rustling Oaks Farm
1500 W Mcculloch Rd
Oviedo, Florida 32765
407/ 679-2271

Willingham Dressage
1785 Willingham Rd
Oviedo, Florida 32766
407/ 359-5700

Kennsington Stables
630 E Chapman Rd
Oviedo, Florida 32765
407/ 365-9866

Chuluota
Big Pine Equestrian Center
Chuluota, Florida
407/ 365-1888

Apopka
Bay Ridge Farm
5474 Effie Dr
Apopka, Florida 32712
407/ 884-0611

Coral Hills Farm Inc
2300 Coral Hills Rd
Apopka, Florida 32703
407/ 889-2424

Eric Wolfe Arabians
2075 Haas Rd
Apopka, Florida 32712
407/ 880-4600

Sky T Stables
2800 Damon Rd
Apopka, Florida 32703
407/ 886-2727

Summer Wind Farm
2878 Lent Rd
Apopka, Florida 32712
407/ 880-9115

Sanford
Over The Hill Farm
5130 Thomas Stable Rd
Sanford, Florida 32773
407/ 322-1912

Pony Parties Unlimited
Sanford, Florida
407/ 322-4768

Red Gate Farm
5796 Michelle Ln
Sanford, Florida 32771
407/ 321-4817

Twelve Oaks Equestrian Center
125 Estates Cir
Sanford, Florida
407/ 324-2142
---
---
<