Sanford History

Sanford is the County Seat of Seminole County, situated on the south shore of Lake Monroe. Less than an hour from the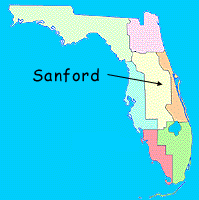 Disney area to the south and Daytona Beach and Kennedy Space Center to the east, this historic town was established in the1830s as a U.S. Army post to keep the Seminole Indians in check. First named Fort Mellon, after Captain Charles Mellon who was killed in an Indian attack, then Mellonville, Sanford transformed into a booming trade center after commercial steamboat service arrived ten years later.
Sanford became more accessible to settlers after the Native Seminole Indians were expelled. In 1870, Henry Shelton Sanford, President Lincoln's Minister for Belgium, bought 12,500 acres and decided to attract settlers from as far away as Sweden to farm the area.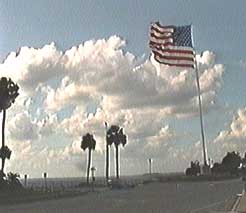 BoseArts Photo
Picturesque Sanford is listed
in the National Register of
Historic Places

The old town of Mellonville was incorporated in 1877 and Sanford began to grow in importance, becoming by 1910 one of the largest vegetable shipping centers in the U.S., commonly known as "Celery City".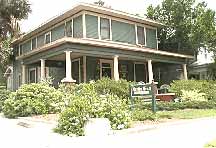 BoseArts Photo
The Martin House, circa 1910, is
a charming bed & breakfast
near downtown Sanford.

Sanford's historic district is a treasure trove of picturesque Victoriana, including the famed Higgins House, now a popular bed & breakfast 407/324-9238. Many fine antique stores make hunting for gifts and unique treasures along the historic Mainstreet district a trip into the past.

Two museums showcase the history of the district - The Museum of Seminole County History 407/321-2489 and the Sanford Museum 407/330-5698, both of which are rich in artifacts.