Mullet Toss
Flora-Bama Lounge, Perdido Key at the Florida-Alabama state line, 850.492.0611

Those wacky locals have tried for years to have mullet tossing included in the Guinness Book of World Records, but so far, the sheer love of the sport will have to suffice. Participants heave a mullet (a dead one, we assume) from Florida into Alabama. It's great fun to watch, and offers spectators another reason to drink and be merry, which is something the Flora-Bama does better 'n anybody.
Junior Funeral Home
609 N. Alcaniz St., Pensacola

The Pensacola area can be as delightfully tacky as the 40-foot neon billfish sign pointing the way to the beach, or as sophisticated as its world-class Great Gulfcoast Arts Festival in November. It is a study in contrasts, pitting newcomers building $4-million-dollar "cottages" on the beach with born-and-bred rural folks with more tattoos than teeth. Most everybody here fits somewhere in between, which is maybe why it's gotten more tolerant over the years. Tolerant enough for one of the county commissioners to own what may be the first drive-through funeral parlor. Pull your car up to the carport-like "viewing window," ask to see Uncle Henry, and while the casket is being wheeled up to the window, privacy screens are unrolling around your car. Press the buzzer when you're ready to go, the screens roll up, and you're on your way!
Bayou Arts & Antiques
Hwy. 393 and Cessna Park,
Santa Rosa Beach (Beaches of South Walton, 850.267.1404.

This wonderland in the woods has only a small sign pointing the way off of Hwy. 98. Travel north on Hwy. 393 about 2 miles, then park and meander over the wooden footbridge to encounter an outdoor garden brimming with arbors, fountains and garden statuary. Inside, Chick and Cathy Huettel display rare antique lamps, handpainted armoires and curios of every description. If you're fortunate enough to visit while Chick is on the property, you'll most likely get a guided tour of his 2nd floor studio, where he teaches watercolor classes, local lore, and is the self-proclaimed Walton County historian.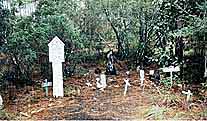 Follow a tiny path through a picket-fenced gate to the St. Francis Wildlife Chapel where a wildlife cemetery memorializes earth's creatures on white crosses. Some lived long enough to be named, but most crosses are simply adorned with the words "squirrel," "crow," or "snake." A brilliantly painted mural inside the chapel depicts creatures of the water, land and air, all moving toward the altar. Chick may still occasionally perform a wedding here, which he offers gratis to the local fishermen.


Patrone's
Scenic County Road 30-A at Highway 283, Grayton Beach (Beaches of South Walton), 850.231.1606




Is it a zoo? A biker bar? A bed and breakfast? An artist's colony? Sure. Step through the totem pole entrance and dodge the huge peacocks that strut around the grounds while making your way to the tiny collection of artist's shops for great deals on odd little collectibles, handpainted furniture, pottery, jewelry and framed watercolors. Pass a few cuddly bunnies ornamenting the lawn (yes, they're real) to get to the bed and brunch units, stuck in between the artists' shops and the "Barnyard Zoo." If you stay here, be sure it's a day you're upwind of the chickens, goats, exotic birds and Hamus Alabamus, a gargantuan porker. Stroll down to the palapa hut and rent yourself a Jon boat for a nice tour of Western Lake. Perhaps Patrone's can't be all things to all people, but they sure do try.
The Gourd Garden (Scenic County Road 30-A, Seagrove Beach, 850.231.2007),



Buy them painted, carved, fresh, dried and cured. Buy them ready for occupancy by wrens, martins, bluebirds, or ready to scoop up your favorite soup. Buy them as jeweled earrings, musical instruments or fashioned into tiny Nativities. Start them from seed and grow your own bottles, penguins, Turk's Turbans and snakes. You might think Randy Harelson is out of his gourd, but his brainchild, is fast becoming one of South Walton County's favorite stops.



Alvin's Island Tropical Department Store
across from Miracle Strip Amusement Park, Panama City Beach, 850.234.3048

Looking like a set from the 60's TV show "Lost in Space," Alvin's Big Island is as much of an attraction for it's tacky T-shirts and beach souvenirs as its thrill-a-minute amusements across the street. But THIS Alvin's is known for more than its creepy cave décor: Aside from live exotic birds, Alvin's features an alligator breeding center, where visitors can watch the process from egg to hatchling to juvenile to—BIG AND SCARY, and daily shark feedings at the gigantic tank in the middle of the store. It's so—Florida.



Wakulla Springs State Park
1 Spring Drive, Wakulla Springs (14 miles south of Tallahassee), 850.224.5950

"Do you know how fast you gotta run if a alligator is chasin' you?…Jes' a little bit faster than the person you is with!" And so goes the patter of the boat drivers on the Wakulla River cruise. You are guaranteed to see at least 40 alligators on your 1_-mile trek up river, as well as some anhinga, or "snake" birds that can dive and fly after drying their wings, the endangered limpkin, water moccasins and box turtles. The river is creepy and primordial, made all the scarier with pairs of alligator eyes watching from every direction. On the glass-bottom boat, your stomach will do a flip-turn as you ease on over the spring, where the water drops from 8 feet to 180. Here, a mastodon bone lies near the bottom as a reminder of the critters who once ruled this land. Henry the jumping fish is an entertainer perhaps only children can understand, but nevertheless, he is an integral part of the Wakulla Springs spiel. What's so fun about Wakulla is the boat captains, who keep the pace lively by pointing out the myriads of wildlife around every bend, on every log, along every bank. Wakulla, unlike many other Florida attractions, does not feed its wildlife, and, in fact, doesn't interact with it in any way (except for the occasional wayward alligator that gets too close to the swimmers!).
Robin Rowan writes about her Florida adventures from her home office in Pensacola.