hey're cute when they're little. Snubby nose, big loveable eyes, blissful baby smile...

The Everglades Alligator Farm is a working ranch-cum-safari park at the edge of the Everglades in Homestead. Owners Charles and Debbie Thibot breed and raise alligators and crocodiles through all stages of life, from egg to monster. They've been there since 1991, but the ranch itself has been its own little Jurassic Park since 1982.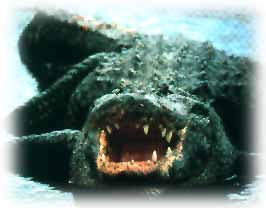 Buying the farm was Charles' answer to mid-life crisis. He left his north Florida management job to find truth in nature, dragging his reluctant wife Debbie along with him. Debbie, an elementary school teacher, says that for her, running the gator farm/tourist attraction has turned out to be quite similar to teaching. She's more or less the principal now, with a staff of naturalists who teach visitors about alligators as well as about many of the other animals who make the Everglades their home.
The alligator population was in precipitous decline when the previous owners cleared away 70 acres of rusting trucks to create the farm. They were instrumental in