>

---

Hyperlinks to and listings of Florida print publications and e-zines, newspapers, radio and television stations.

Compiled by
Matthew Beale

FloridaMedia

Click the map for regional links

---
All-Florida Publications / Sites
Online Magazines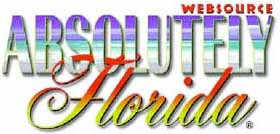 Absolutely Florida Websource
"Florida @ Your Fingertips"
E-mail: contactabfla@abfla.com
Hyperactive
Focusing on the music of Florida
IMPACT press
"A bi-monthly socio/political publication focusing on aggressive journalism and biting commentary."
Historically Brewed
"Published by the Historical Computer Society, and takes a loving look back at all the wild and wonderful computers produced in the early days of the PC revolution." (R. Seth Friedman) 3649 Hershel Street, Jacksonville, FL 32205
Storm 97: Hurricane Central
Comprehensive coverage of The Floridian season
e-Mail: storm97@cimedia.com
Magazines
Florida Sports Magazine
E-Mail: staff@floridaSports.com
Florida Trend
"The Magazine of Florida Business"
Generation
"The Magazine of the First Generation"
e-Mail: volt120@aol.com
Wildlife and Nature:
Florida's outdoors magazine
Antiques & Art Around Florida
"Established in 1985, Antiques & Art Around Florida is a full color guide to the antiques and collectibles market." Local Phone: 954/768-9430
Or: 800/248-9430
e-Mail: aarf@shadow.net
---
Region One: Southeast Florida

Magazines

Entertainment News and Views
"South Florida's Premier Arts, Dining & Entertainment Weekly"
e-Mail: hsalus@entnews.com

Fashion Spectrum Magazine
763 Collins Avenue, Suite 304
Miami Beach, FL 33139
Local Phone: 305/534-0084 / Fax: 305/534-2080

Cyber Conch
"The zine of the Conch Republic"
E-Mail: brooks@cyberconch.com

El Heraldo
1975 E. Sunrise Blvd. #616
Fort Lauderdale, FL 33304
Phone: 954/527-0627
E-Mail: estilo96@aol.com
"The first Spanish language newspaper in Florida to provide information in English and Spanish online."

Smooth Lips A Miami based independent record label's zine Post Office Box 165736 Miami, FL 33116-5736 E-Mail: smthlps@netrunner.net

Velvet Donk
"And in the hot, dense air of the Florida Keys..."Ê

Mangazoo "Avante garde site including the Mango & Bone Island Sun Zine, humor, aromatherapy section, seafood store, general store, photo tour and what to do in Key West & The Florida Keys."

South Florida Magazine

Newspapers

El Nuevo Herald
Local Phone: 305/350-2111

South Florida Business Journal

Boca Raton News
33 S.E. 3rd Street
Boca Raton, FL 33432
Phone: 561/338-4900
Fax: 561/338-4849

Diario Las Americas
2900 N.W. 39th Street
Miami, FL 33142-5193
Telefono: 305/633-3341
Fax: 305/635-7668
E-Mail:comments
@diariolasamericas.com

La Campana
"Un periÑdico por la libertad de Cuba. Noticias acerca de Cuba y America Latina en general."
P.O.Box 403895, Miami Beach, FL 33140 / Telefono: 305/531-1995 / Fax: 305/531-1975
E-Mail: lacampana@usa.net

The Miami Herald
One Herald Plaza
Miami, FL 33132-1693
Local Phone: 305/350-2111

Miami New Times
2800 Biscayne Boulevard
Miami, FL 33137
Local Phone: 305/576-8000 / Fax: 305/571-7678

Miami's Community Newspapers
Serving Dade and Broward Counties

The Palm Beach Post
P.O. Box 24700
West Palm Beach, FL 33416-4700
Local Phone: 561/820-4100
Or: 800/432-7595 / E-Mail: Blackerby@pbpost.com

Sun Sentinel
P.O. Box 14188
Fort Lauderdale, FL 33302

The Town Crier
12794 W. Forest Blvd. Suite 21
Village of Wellington, FL 33414
Phone: 561/793-7606 / Fax: 561/793-6090 / E-Mail: thecrier@magg.net
"The Palms West Communities' Only Local Newspaper"

Florida Keys
Keynoter Onliner
3015 Overseas Highway
Marathon, FL 33050
Local Phone: 305/743-5551
Fax: 305/743-9586


Radio

WDNA: Public
88.9 FM, Miami-Ft. Lauderdale e-Mail: wdna@paradise.net

WHYI: Top 40
100.7 FM, Miami- Ft. Lauderdale

WINZ: News Radio
940 AM, Miami- Ft. Lauderdale
E-Mail: winznet@aol.com

WIOD-AM : News/Talk/Entertainment
610 AM, Miami-Ft. Lauderdale

WKIS:Country
99.9 FM, Miami-Ft. Lauderdale

WLYF : "Lite" music for a "lite" nation
Miami-Ft. Lauderdale

WLRN-FM : Public
91.3 Fm, Miami-Ft. Lauderdale
e-Mail: info@wlrn.org Local Phone: 305/995-1717

WMXJ: Oldies
102.7 FM, Miami- Ft. Lauderdale

WPIK
102.5 FM, Miami-Ft. Lauderdale
E-Mail: gmyq30a@prodigy.com


WSHE
103.5 FM, Miami-Ft. Lauderdale
E-Mail: wshe@shadow.net

WTMI : "Voice of the Arts"
93.1 FM, Miami- Ft. Lauderdale
E-Mail: webmaestro@wtmi.com
Phone: 305-856-9393

RADIO 1
Palm Beach; links to four area radio stations

WKGR : Classic Rock
98.7 FM, West Palm Beach
Events Line: 561/471-ROCK

WBZT
"THETALKSTATION"
1290 AM, West Palm Beach
e-Mail: wbzt@wbzt.com

Television Stations

WBFS-TV: UPN
Channel 33, Miami-Ft. Lauderdale
E-Mail: upn33@paramount.com

WDZL-TV: WB
Channel 39, Miami-Ft. Lauderdale

WFOR-TV: CBS
Channel 4, Miami- Ft. Lauderdale

WLRN-TV: Public
TV 17, Miami-Ft. Lauderdale
E-Mail: wlrn@shadow.net

WSVN-TV: Fox
Channel 7, Miami-Ft. Lauderdale
E-Mail: news07a@aol.com

WTVJ-TV : NBC
Channel 6, Miami-Ft. Lauderdale
E-Mail: wtvj@nbc.com

WPEC-TV
Channel 12, West Palm Beach
e-Mail: wpectv12@gate.net

Sports Channel
Fort Lauderdale

WPTV: NBC
Channel 5, West Palm Beach

---
Print Publications

The News Journal
Serving Volusia and Flagler Counties
Post Office Box 2831
Daytona Beach, FL 32120-2831
Local Phone: 904/252-1511
Fax: 904/258-8465

Online Newspaper

Florida Today
(Brevard County)
E-Mail: mdecotis@flatoday.infi.net "Your online guide to the Space Coast"

Radio Stations

WPGS: "The Talk of East Central Florida"
840AM, Mims EMail: wpgs@wpgs.com

WTKS: Country
104.1 FM, Cocoa Beach, Orlando

WGNE
98 FM, Daytona

Television Stations

WCPX-TV: CBS
Channel 6, Orlando-Daytona Beach

WFTV-TV: ABC
Channel 9, Orlando-Daytona Beach
E-Mail: wftvch9@aol.com

WMFE-TV: Public
Channel 24, Orlando-Daytona Beach E-Mail: wmfe@pbs.org

WOFL-TV: Fox
Channel 35, Orlando-Daytona Beach

WRBW-TV: UPN
Channel 65, Orlando-Daytona Beach
---
Magazines

Jacksonville Magazine
E-Mail: mail@jacksonvillemag.com

Newspapers

The Bradford County Telegraph
Bradford County Telegraph
135 West Call Street
Starke, FL 32091
Phone: 904/964 -6305
Telegraph fax: 904/964 -8628
Office Shop fax: 904/964- 6095

Florida Times-Union

P.O. Box 1949 Jacksonville, FL 32231 Local Phone: 904/359-4573

The Independent Florida Alligator
Campus Communications Inc.
Post Office. Box 14257
Gainesville, FL 32604-2257
Local Phone: 352/376-4446
Fax: 352/376-4556 E-Mail: edbarber@atlantic.net Covers the University of Florida community.

The St. Johns County Chronicle
P.O. Box 1783
St. Augustine, Florida 32085
Loca Phone: 904/824-8371
Fax: 904/824-3962
E-Mail: ktwo@aug.com
Comprehensive monthly calendar of events
for St. Augustine and NE Florida. Home delivered
Online at www.oldcity.com/chronicle


The St. Augustine Record
158 Cordova St.
St. Augustine, FL 32084
Local Phone: 904/829-6586 FAX: 904/829-6664
e-Mail: record@staugustine.com

Sun One
(Online version of The Gainesville Sun)

Radio Stations
WAJD
1390 AM, Gainesville E-Mail: kiss105.3@aol.com

WRUF: Rock.
103.7 FM, Gainesville
E-Mail: bclarke@jou.ufl.edu

WPLA: Alternative Rock
93.3 FM, Jacksonville
Have fun with the website's chat room.

WQIK: Country
99 FM, Jacksonville

WAYL
91.9 FM, Jacksonville E-Mail: waylfm@aol.com

WJGR
1320 AM, Jacksonville E-Mail: wjgram@aol.com

WAYL: Christian Radio
91.9 FM, St. Augustine
"Positive Hit Radio For Florida's First Coast"

Television Stations

WUFT-TV: University of Florida
Channel 5, Gainesville
E-Mail: wuft@afn.org

WJXT-TV: CBS
Channel 4, Jacksonville
E-Mail: apace@wjxt.com

WTLV-TV
Channel 12, Jacksonville
E-Mail: contact12@aol.com
---
Magazines

Gulf Coasting: Southwest Florida's entertainment magazine
e-Mail: fun@swfla.infi.net

Sarasota Magazine Online
Sarasota Magazine
601 South Osprey Avenue
Sarasota, FL 34236
Local Phone: 941/366-8225
Fax: 941/365-7272
e-Mail: saramag@earthlink.net

Newspapers

Lee County Examiner
72 Pondella Road, Suite 108
N. Ft. Myers, FL 33903
Local Phone: 941/656-5569 Fax: 941/656-5595
E-Mail: examiner@cyberstreet.com

Marco Island Eagle
579 Elkcam Circle
Marco Island, FL 34146
Local Phone: 941/394-7592
Or: 800/330-7592
Fax: 239/394-8552
e-Mail: marcoeagle@aol.com

The Port Charlotte Sun Herald
23170 Harbor View Road
Port Charlotte, FL 33980 Phone: 800/830-7861
Fax: 941-629-2085

Radio Stations

WGUF: Smooth Jazz
98.9 FM, Naples
Phone: 941/435-9100

WJST: Rock
"Storm 106" FM, Naples

Havana Herald
E-Mail: hherald@gcn.scri.fsu.edu

Television Stations

WBBH-TV: NBC
Channel 2, Fort Myers-Naples
E-Mail: prgmdir@water.net

WEVU-TV
Channel 7, Fort Myers-Naples
E-Mail: prgmdir@water.net

WSFP-TV
Channel 30, Fort Myers-Naples
E-Mail: toby-cooke@wsfp.pbs.org
---
Magazines

Bayscape
"An online magazine providing an introspective look at cultural arts, dining, theater, music, dating, kids, shopping, travel, historical landmarks and social activites for area residents and visitors."

Webcoast: Tampa Bay's official Online information magazine
Local Phone: 813/527-3388
E-MAIL: wcstaff@webcoast.com

VR Homes: Gulf Coast Florida Real Estate E-zine
Post Office Box 18595
Sarasota, FL 34276
Local Phone: 941/924-7450
E-Mail: biz@vrhomes.com

Newspapers

The Newscaster
P.O. Box 447
Yankeetown, Fl 34498
12 page weekly Community newspaper serving Yankeetown, Inglis, Gulf Hammock, Otter Creek, Lake Rousseau S. Levy and N. Citrus

Citrus County Chronicle Online
1624 North Meadowcrest Boulevard Crystal River, FL 34429
Local Phone: 352/563-5655
e-Mail: citrus@infi.net

Bradenton News
102 Manatee Avenue West
Bradenton, FL 34205
Phone: 941-745-7000

The Florida Sentinel-Bulletin
P.O. Box 3363
Tampa, FL 33601
Local Phone: 813/248-1921
e-Mail: flasentinel@reddesign.com Online paper covering The African-American Community Of the Tampa Bay Area

Pasco News
P.O. Box 187, 13032 U.S. Hwy. 301
Dade City, FL 33526-0187
Local Phone: 904/567-5639
Fax: 904/567-5640
E-Mail: Owens@pasconews.com

Sarasota Herald-Tribune
801 S. Tamiami Trail
Sarasota, FL 34236
Local Phone: 941/957-5145
Fax: 941/957-5276

The St. Petersburg Times
490 1st Avenue South
St. Petersburg, FL 33701
Phone: 800/33-7505
Fax: 813/893-8371

The Tampa Tribune
202 South Parker Street
Tampa, FL 33606
Phone: 800/282-5588
Fax: 813/259-7676

Radio Stations

WXTB : "Pure rock & roll"
"98 Rock" FM, Tampa
E-Mail: 98rock@98rock.com
Their site includes an online zine, "Earwig"

WJIS
88.1 FM, Tampa-St. Petersburg E-Mail: 76443.10@compuserve.com

WKES
101.5 FM, Tampa-St. Petersburg E-Mail: 76467.1000@compuserve.com

WRBQ: Country
Tampa-St. Petersburg

WSJT
94.1 FM, Tampa-St. Petersburg
E-Mail: wsjt@compuserve.com

WTWB
1570 AM, Tampa-St. Petersburg
E-MAIL: 74627@com.6

WTBT: Classic Rock
105.5 FM, Tampa-St. Petersburg

WUSF: Public
89.7 FM, Tampa-St. Petersburg
E-Mail: wusffm.wusf@usf.edu

WAYJ
88.7 FM, Fort Myers-Naples
e-Mail: wayjradio@aol.com

TV Stations

WCLF-TV
Channel 22, Tampa-St. Petersburg
E-Mail: hessie@ix.netcom.com

WFCT-TV
Channel 66, Tampa-St. Petersburg
E-Mail: 76322,3362@compuserve.com

WFLA: NBC
Channel 8, Tampa-St. Petersburg
E-Mail: kpilcher@wfla.com Local Phone: 813/221-5788

WFTS-TV: ABC
Channel 28, Tampa-St. Petersburg
E-Mail: newstips@wfts.com

WTMV: WB
Channel 32, Tampa-St. Petersburg
E-Mail: wb32@wb32.com

WTOG-TV
Channel 44, Tampa-St. Petersburg
E-Mail: news44@aol.com

WTSP: CBS
Channel 10, Tampa-St. Petersburg
E-Mail: news@channel10.com
Fax: Fax: (813) 577-8436

WTVT-TV: Fox
Channel 13, Tampa-St. Petersburg
E-Mail: 13@wtvt.com Fax: 813-875-8329

WWSB-TV: ABC
Channel 40, Tampa-St. Petersburg (Sarasota), E-Mail: contact40@aol.com

WUSF: Public, University of South Florida
Channel 16, Tampa, St. Petersburg, Sarasota, Lakeland E-Mail: sgeiger@wusf01.wusf.usf.edu
---
Magazine

It's The Music, Stupid! Also included: commentary, humor and poetry. Duh. E-Mail: brotherjohn@gulf.net

Newspapers

The Log Online
P.O. Box 957 Destin, FL 32540
Local Phone: 904/837-2828
e-Mail: thelog@emeraldcoast.com Combined online version
Of The Destin & The Walton Log

The Panama City News Herald
P.O. Box 68
Panama City, Florida 32402-0068
Local Phone: 850/747-5050
Or: 800/345-8688
Fax: 850/763-4636

The Tallahassee Democrat
277 N Magnolia Dr.
Tallahassee, FL 33132
Local Phone: 904/599-2100
Or: 800/999-2271

The Tallahassee News
"Tallahassee's independent newspaper
and first on the World Wide Web."
2120 Great Oak Drive
Tallahassee, FL 32303
E-Mail: mikems@freenet.fsu.edu
Local Phone: 904/386-2310 Fax: 904/422-2120

Radio Stations

WEBZ
99.3 FM, Panama City
E-Mail: sunny@intoz.com

WFSY
98.5 FM, Panama City
E-Mail: sunny@interroz.com (see WGNE-AM)

WTKX: "The Rock Alternative"
101.5 FM, Pensacola
E-Mail: Radio@TK101.com The site has chat rooms, etc.

Television Stations

W24AM: Christian Programming
TV24, DeFuniak Springs
A Family Net affiliate.
WMBB-TV
Channel 13, Panama City
E-Mail: tv24@defuniaktv.com

WPGX-TV: Fox
Channel 28, Panama City E-Mail: fox28tv@aol.com

WFSU-TV: Florida State University
Channel 11, Tallahassee E-Mail: wfsu-tv@mailer.fsu.edu

WTLH-TV: Fox
Channel 49, Tallahassee

WTXL-TV: ABC
Channel 27, Tallahassee
---
Magazines

Axis: Orlando Magazine
P.O. Box 151720
Altamonte Springs, FL 32715
Local Phone: 407/767-9340 / E-Mail: axis@iag.net

Newspapers

Orlando Reporter
"A progressive on-line magazine of Central Florida and national news, views, politics, information and entertainment" e-Mail: benmark@earthlink.net

The Lakeland Ledger P.O. Box 408
Lakeland FL 33802
Local Phone: 941/ 687-7820
Or: 800/282-3200
e-Mail: online@theledger.com

Ocala Star-Banner
P.O. Box 490
Ocala, FL 34478
Local Phone: 352/867-4105
e-Mail: osb@mercury.net

The Orlando Sentinel
633 North Orange Avenue
Orlando, FL 32801
Phone: 800/347-6868
Fax: 407/420-5350



Radio

WHIJ: Christian Radio
88.1 FM, Ocala
"Little talk, LOTS of praise, worship & prayer."

WDIZ: Rock
100.3 FM. Orlando-Daytona Beach

WJRR : Rock
101.1 FM, Orlando-Daytona Beach

WLOQ : Jazz
103.1 FM, Orlando-Daytona Beach
e-Mail: general@wloq.com

WXXL
106.7 FM, Orlando-Daytona Beach

WOMX
105.1 FM, Orlando-Daytona Beach
Scott & Erica's Mix 105.1

WUCF : "Your source for JAZZ... and more!"
89.9 FM, Orlando; University of Central Florida



Television

WCPX-TV : CBS
Channel 6, Orlando-Daytona Beach

WFTV-TV: ABC
Channel 9, Orlando-Daytona Beach
e-Mail: wftvch9@aol.com

WMFE-TV : Public
Channel 24, Orlando-Daytona Beach
e-Mail: wmfe@pbs.org

WOFL-TV : Fox
Channel 35, Orlando-Daytona Beach

WRBW-TV : UPN
Channel 65, Orlando-Daytona Beach

---
---
<