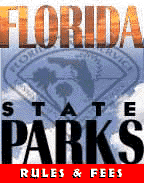 CAMPING FEES
Discounts
Seasonal Camping
Year-round Camping Fees
Primitive Camping Fees
Some parks have seasonal camping rates. Please see individual park listing for rates.
All fees are per day unless otherwise noted. Local option taxes and county surcharges may apply at some parks. If you desire further information, reservations or wish to determine campsite availability, contact the park directly.
All fees are subject to change without notice.
| Front Page | Pet Friendly Parks | Park Listings | Map | Entrance, Cabin & Camping Fees | Director's Message | Rules |
---
FLORIDA STATE PARKS
RULES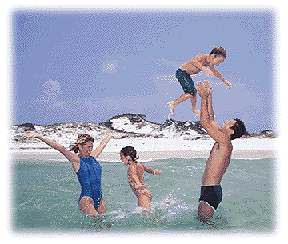 Florida state parks are in various stages of accessibility, and are working to improve access to services and facilities. Should you need assistance to enable your full participation, please contact the individual park office as soon as possible. Sometimes as many as ten days may be needed to schedule a particular accommodation.

Florida State Parks are managed as natural systems. All plant and animal life is protected in state parks. Hunting, livestock grazing and timber removal are not permitted. Do not remove, deface, mutilate or molest any natural resources. For your safety, do not feed any animals. Intoxicants and firearms are prohibited. Florida state parks are open from 8 a.m. until sundown 365 days a year.

Pets are not allowed in camping areas, on bathing beaches, in concession areas and may be restricted in other designated areas of the park. Where pets are allowed, they must be kept on a six-foot, hand-held leash and well-behaved at all times. Service dogs are welcome in all areas of the parks.

To discover and experience all of the Real Florida at Florida's state parks, ask a Park Ranger where you can pick up a copy of the Florida State Park Guide, or call 850/488-9872.
---