>
---
<-- More Absolutely Florida
---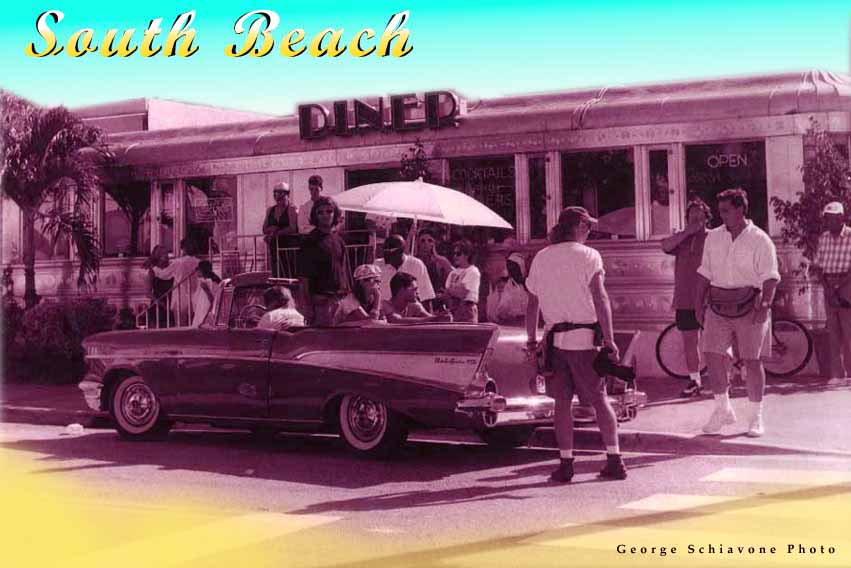 florida ..

cityscape
SizzlingSouthBeach
by G.K. Sharman
When people close their eyes and dream of Florida, this is what they see: ribbons of white sand shimmering in the tropical heat. Blue, blue water rippling gently toward the shore. Palm trees swaying and rustling in a slight breeze. Good-looking skinny people wearing next-to-nothing bikinis and working on their tans. And in the background, cotton-candy-colored buildings from the days when vacations were languid and hotel rooms didn't come from cookie-cutter chains.

Miami Beach is where fantasy meets reality like a wave kisses the sand. It's seven miles of sun-splashed shoreline, connected to the mainland by five causeways and a shimmery vision of... anything you can imagine. It's a place that's simultaneously moneyed and bohemian, up-to-date and antique, cool and hot-hot-hot.

It's also a separate city, thank you very much, not just some sandy appendage of the metropolis across the bay. People actually live here, many of them on the north end of the island in Surfside, Bal Harbour, North Beach and Sunny Isles.

But it's tourism that makes the place tick. Visitors come from around the world and across Biscayne Bay. On weekends, as many as 30,000 people cross the causeways looking for a good time. Traffic is murder, so find a parking space early and hoof it. Hop on to one of the free electric buses which go up and down the main drags.

South Beach, or SoBe to those in the know, is the heart of the Miami Beach vision. It's the American Riveria, funky and eclectic and hip and young and eccentric and historic. Its residents are artists and writers and models and musicians, but everybody comes to visit.

And now you're here. The first thing you do after you drop your bags in one of those funky deco hotels is slather on the suntan oil and hit the beach. Right' Not so fast. The island has several stretches of sand to choose from, each with its own personality, level of trendiness and see-and-be-seen quotient.

Most popular is Lummus Park, which runs roughly from 6th to 14th streets. Surf is gentle, the water is clear and blue and the bottom slopes so gently you can wade far out into the sea. The white sand is perfect for volleyball games. A concrete walkway runs most of the length of the beach and is popular with joggers, strollers and inline skaters.

The beautiful people come here to bronze themselves in tiny, tiny bathing suits. While you're admiring them, keep your eyes peeled for models on photo shoots.

South Pointe Park at the island's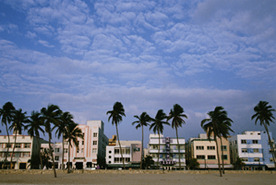 southern tip is family friendly with a swimming beach and a playground for the kids. The beach around 23rd Street is popular with gays.

For swimming without the crowds, try the 85th Street Beach along Collins Avenue. A few blocks north, at 96th Street, is Bal Harbour Beach, the place to go if you like shell hunting.

Haulover Beach Park just north of Bal Harbour is known for two things: surfing and nude sunbathing. Remember, it's rude to gawk.

On land, SoBe's art deco architecture is worth an afternoon afoot. The best examples of the neighborhood's whimsical, outrageous architecture date to the 1920s and '30s. Once neglected almost to the point of demolition, the district -- essentially Ocean Drive, Collins Avenue and Washington Avenue between 6th and 23rd streets -- now contains some 800 buildings on the National Register of Historic Places. Structures have been spruced up and refurbished in their original sherbet shades.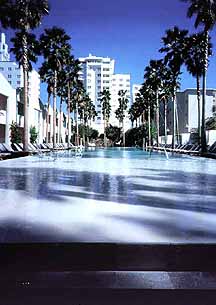 Guided walking and bicycle tours are available through the Art Deco District Welcome Center. Or you can see the sights on your own.

Some highlights: the Mediterranean Revival-style Edison Hotel next door, which shares a pool with the Breakwater; the Park Central Hotel, known for its terrazzo floors and front steps and etched glass details; the cubist-inspired Victor Hotel; the Miami Beach main post office, which features a circular rotunda and a historical mural; the seafaring motif of the Essex House; and the Clevelander Hotel, which still has its original pool and sun deck.

As long as you're out and about, take a look at: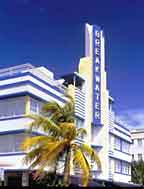 -- Gianni Versace's house (Ocean Drive at 11th). The Italian designer was gunned down on the steps of his mansion, the only privately owned residence on Ocean Drive.

-- Lincoln Road mall, a luxurious pedestrian shopping temple also designed by Lapidus. It features clothing and art boutiques, plus a cineplex and several restaurants and clubs.

-- Farther up Collins Ave, past 41st Street, the Fontainebleau Hilton Resort and Towers. This splashy resort icon is much photographed and known for its 10-story trompe l'oeil mural of a lagoon and waterfalls.

-- the Eden Roc Resort & Spa, next door to the Fontainebleau and designed by the same architect, Morris Lapidus.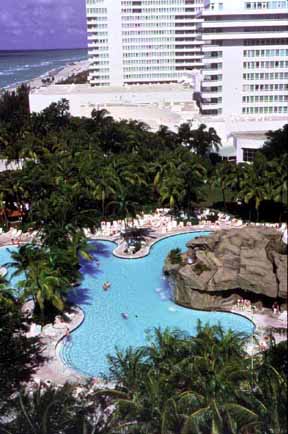 And now night falls and the neon flickers on and this place really starts to sizzle. Miami Beach -- and SoBe in particular -- is a town for night owls, not early birds. The party starts late and can last until breakfast.

Most evenings get under way with dinner -- and don't even think about eating at 6, or even 7. An evening meal at 9 or 10 or even later isn't unusual here -- probably because it takes that long to choose from among all the yummy offerings. But deciding is half the fun. Walk the streets, read the menus, indulge in the enticing aromas. No matter which you pick, it'll be an experience. Chances are, the place will have tables on the sidewalk, too -- so snag one. They make a dandy perch from which to watch the local wildlife.

Of course you'll want to eat and party with the trendoids, but beware: the popularity of SoBe restaurants and clubs can change faster than a model can slip into a new outfit. Not only do they open and close with some regularity, what's 'in' this morning may be 'out' by dinner.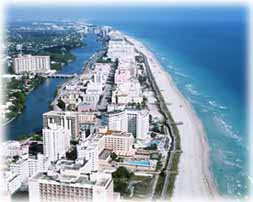 One place that's always 'in' is Joe's Stone Crab. It's a regular institution. Expect long lines, high prices and waiters who'll berate you if you order anything but the specialty of the house.

A table on the terrace at News Café is a primo spot from which to people-watch. Isn't that girl the one in the bathing suit ad' That's what's-his-name from that TV show! It's also a good place to get a healthy breakfast the morning after.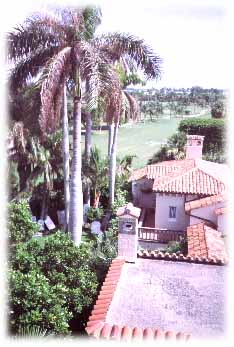 One spot for Cuban is Larios on the Beach, owned by Miami singer Gloria Estefan. Meanwhile, the menu at Mango's includes Mexican, Caribbean, Cuban and vegetarian dishes -- and salsa music in the club.

If you really want to spend money, try the Astor Place at the Astor Hotel. Both restaurant and bar cater to a sophisticated crowd. Likewise for Wish at The Hotel.

Hey, take a chance -- just look for the biggest crowd, the loudest music and the scantiest outfits and you can't possibly go wrong.

After dinner, it's time to party. Living Room at the Strand is a hot spot for Euros and beautiful people. Oliver Stone and Harrison Ford used to hang at Chaos, while the college crowd goes for Howl at the Moon Saloon. For Latin beat, check out Studio 23 or Yuca. If you have two left gringo feet, you can learn to salsa at Starfish.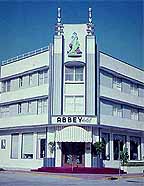 SoBe is very gay-friendly, and some of the hottest spots to party are gay clubs. Some have open-door policies, others prefer a more private clientele. Twist is a cruise bar, while Salvation has some of the wildest drag queens and a party that doesn't stop til dawn.

Now that you've done the party scene, you should know that Miami Beach also has a serious side. The Wolfsonian Foundation houses an eclectic collection that reflects the cultural, political and technological changes of the decades preceding World War II. Look for the Jazz Age kitchen appliances and the hand-tooled Braille version of Mein Kampf. The Bass Museum is the island's only fine art repository. Its holdings range from Old Masters to ecclesiastical artifacts.

The Sanford L. Ziff Jewish Museum of Florida tells the story of a people whose Sunshine State roots go back more than 200 years. Miami has the second largest Jewish community in the United States (second only to New York City) and one of the largest enclaves of Holocaust survivors.


Housed in a former synagogue, the museum's exhibits range from stained glass windows to family photos. The Holocaust Memorial commemorates the 6 million Jews who perished under the Nazis. Pay particular attention to the large bronze hand in the plaza.

Just because you've sunned, sipped, shopped and strolled, don't even begin to think that you've exhausted Miami Beach's possibilities. There's plenty to do when you return again... and again... and again.

---
---
---
---
<