---
WATCH HOTEL VIDEOS WHEN YOU

produced by Florida.TV
Follow the

for pet-friendly hotels!
---
---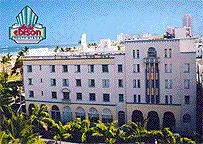 Edison Hotel South Beach


Email Us!

960 Ocean Drive

Miami Beach, FL 33139

Entrance on 10th Street

Reservations: 800.961.9076

Tel: 305/531-2744

Fax: 305/672-4153
Experience the world famous, oceanfront Edison Hotel South Beach, in the epicenter of the exciting, exhilarating Art Deco District on Ocean Drive @ 10th Street, with on-site pool, restaurant, and sidewalk cafe. . The historic Edison offers 60 renovated rooms...many with partial ocean views. Amenities include in-room safes, cable TV, refrigerators, hair dryers, irons, coffee makers, direct dial phones w/data ports and complimentary beach towels. Check our website for live webcams and Internet Specials and then book online for the best rates.


on map.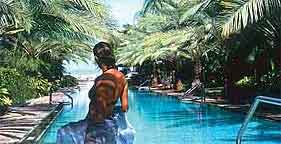 Raleigh Hotel
1775 Collins Avenue
Miami Beach, Florida 33139
Telephone: 305/534-6300
Fax: 305/538-8140 Reservations: 800/848-1775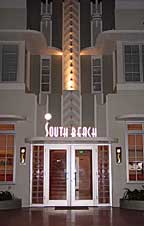 236 21st Street
Miami Beach , 33139
305-531-3464
f: 305-532-7141


The South Beach Hotel, located in the heart of South Beach's Art Deco District,is truly a hidden treasure. Our hotel has spacious rooms and suites that have been carefully restored to preserve and recreate the original features that reined during the Art Deco Era. Within walking distance to Lincoln Road Mall, gourmet restaurants, boutiques, nightlife, world famous Ocean Drive and the sandy beaches. If you are looking for a luxurious, simple yet elegant boutique hotel, let us pamper you on your next vacation.

758 Washington Avenue
(Reception Entrance: 763 Pennsylvania Avenue)
Miami Beach , 33139
305-673-9009
f:305-673-9244
888-394-6835

Experience the unique, futuristic, historic Royal, on Washington @ 8th Street, just steps to clubs, cafes, shops and two blocks to the beach. . Designed for the new royalty, the hotel was recently brought up-to-date by world famous designer Jordan Mozer with one-of-a-kind, hi tech amenities to delight guests. The 42 brightly colored rooms feature cool marble floors, all tile bathrooms, kitchenettes, CD players, safes, high speed Internet, and cable TV with HBO. Guests enjoy luxury at affordable rates in the center of SoBe's fashion, dining and nightlife district. The Royal is featured "Fodor's," "Cool Hotels" and "The Best Designed Hotels in North & South America."


1717 Collins Avenue,
Miami Beach, FL 33139
Tel: 1-305-532-7715
Fax: 1-305-532-7280

The hotel is located in the heart South Beach. We are in the historic Art Deco District and within walking distance to Lincoln Road Mall, Ocean Drive, Jackie Gleason Theatre, Miami Beach Convetion Center, and most major companies on South Beach. The property features 185 rooms including 4 suites. Each room is equipped with dual phone lines with voice mail and data port, coffee maker with complimetary coffee, iron and ironing board and hairdryer. The hotel offers a large swimming pool, 200 feet of beach with non-motorized water sports,lounge chairs and umbrellas. The restaurant serves a regional cuisine, with breakfast, lunch and dinner served daily from 7am to 11pm.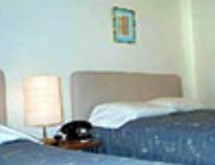 1340 Collins Avenue
Miami Beach Florida 33139

Built in 1937, the Beachcomber Hotel is a small historic art deco hotel located in the heart of Miami Beach's Art Deco District. It is situated one block from the Atlantic and world-renowned Ocean Drive and only five blocks from the Miami Beach Convention Center, Jackie Gleason Theatre and Art Museums.

---
More South Beach Hotels
Adams Hotel
2030 Park Ave.
Miami Beach, Florida 33139
Tel: 305/534-2114, Fax: 305/672-1842
The Astor
956 Washington Ave.
Miami Beach, Florida 33139
Tel: 305/531-8081
Fax: 305/531-3193
Reservations: 800/270-4981

The Avalon & Majestic Hotel
700 Ocean Drive
Miami Beach, Florida 33139
Tel: 305/538-0133
Fax: 305/534-0258
Reservations: 800/933-3306

Bayliss Guest House
504 14th St.
Miami Beach, Florida 33139
305/532-0020
Fax: 531-3755
Beach Plaza Hotel
1401 Collins Ave.
South Beach, Florida 33139
305/531-6421
800/395-9940
Phone: 888/265-9330

Boulevard Hotel & Cafe on the American Riviera
740 Ocean Drive
South Beach, Florida 33139
Phone: 305/532-0376
Fax: 305/674-8179

Brigham Gardens
1411 Collins Avenue
Miami Beach, Florida, 33139
Local Phone: 305/531-1331
Casa Brunello
436 Ocean Drive
Miami Beach, Florida 33139
Local Phone: 305/532-7093
Or: 888-531-8122
Fax: 305/532-2620
Catalina Resort
1732 Collins Ave.
Miami Beach, Florida 33139
Local Phone: 305/674-1160
Fax: 305/672-8216
The Crest Hotel Suites
1670 James Ave.
Miami Beach, Florida 33139
Local Phone: 305/531-0321
US: 800/531-3880
Fax: 305/305/531-8180
Cardozo Hotel
1300 Ocean Dr.
Miami Beach, Florida 33139
Local Phone: 305/535-6500
Fax: 305/532-3563
800/782-6500
The Clay Hotel & International Hostel
1438 Washington Ave.
Miami Beach, Florida 33139
305/534-2988
Fax: 305/673-0346
Clifton Hotel
1343 Collins Ave
Miami Beach, Florida 33139-4208
Local Phone: 305/534-0128
Fax: 305/534-0942
The Colony
736 Ocean Drive
Miami Beach, Florida 33139
Local Phone: 305/673-0088
Or: 800/2-COLONY
Fax: 305/532-0762
The Delano
1685 Collins Avenue
Miami Beach, Florida 33139
Local Phone: 305/673-2900
Fax: 305/532-0099
Reservation: 800/555-5001
The Di Lido Beach Hotel
155 Lincoln Rd.
South Beach, Florida 33139
Local Phone: 305/538-0811

The Dorchester Hotel
1850 Collins Ave.
South Beach, Florida 33139
Local Phone: 305/531-5745
Fax: 305/673-1006
Reservations: 800/327-4739
The Essex House
1001 Collins Ave.
South Beach, Florida 33139
Local Phone: 305/534-2700
Fax: 305-532-3827
Reservations: 800-553-7739
Franklin Hotel
860 Collins Avenue
Miami Beach, Florida 33139
Local Phone: 305/531-5541
Fax: 305/673-4112

The Governor Hotel
435 21st St.
Miami Beach, Florida 33139
Local Phone: 305/532-2100
Fax: 305/532-9139
Reservations: 800/542-0444
Hotel Impala
1228 Collins Avenue
Miami Beach, Florida 33139
Local Phone: 305/673-2021
Or: 800/646-7252
Fax: 305/673-5984

Hotel Leon
841 Collins Avenue
Miami Beach, Florida 33139
Local Phone: 305/673-3767
Fax: 305/673-5866

Jefferson House
(Gay hotel)
1018 Jefferson Avenue
Miami Beach, Florida 33139
Local Phone: 305/534-5247; Fax:305/534-5953

Joma Guesthouse
1330 Collins Avenue, suite 10
Miami Beach, Florida 33139
Local Phone: 800/341-5411
Fax: 305/534-2241

Kent Hotel
1131 Collins Avenue
Miami Beach, Florida 33139
Local Phone: 305/534-5247
Fax:305/534-5953
Miami Beach, Florida 33139
Leslie Hotel Art Deco
1244 Ocean Drive
Miami Beach, Florida 33139
Reservations: 407/740-6442
Or: 800/555-7555
Fax: 407/740-8222

Marseilles Hotel
1741 Collins Avenue
Miami Beach, FL 33139
Local Phone:305/538-5711
Or: 800-327-4739

The Mermaid Guesthouse
909 Collins Avenue
Miami Beach, Florida 33139
Local Phone:305/538-5324

Nassau Suites Hotel
1414 Collins Avenue
Miami Beach, Florida 33139
Local Phone: 305/532-0043
Fax: 800/534-3133

National Hotel - see story
1677 Collins Avenue
Miami Beach, Florida 33139
Local Phone: 305/532-2311
Or: 800/327-8370

Park Central Hotel On the Beach
640 Ocean Drive
Miami Beach, Florida 33139
Local Phone: 305/538-1611
Or: 800/727-5236

Pelican Hotel and Cafe
826 Ocean Drive
Miami Beach, Florida 33139
Local Phone: 305/673-3373
Or: 800/7 PELICAN
Cafe: 305/673-1000
Fax: 305/673-3255
Parisian & Geneva Hotels
1510 Ocean Drive
Miami Beach, Florida 33139
Local Phone: 305/538-7464
Fax: 305/673-4112
Penguin Hotel
1418 Ocean Drive
Miami Beach, Florida 33139
Local Phone: 305/534-9334
Or: 800/235-3296
Fax: 305/672-6240
Peter Miller Hotel
1900 Collins Avenue
Miami Beach, Florida 33139
Local Phone: 305/531-7611

The San Juan Hotel
1680 Collins Avenue
Miami Beach, Florida 33139
Local Phone: 305/538-7531
Or: 800/468-1688
Fax: 305/532-5704

The South Seas Hotel
1751 Collins Avenue
Miami Beach, Florida 33139
Local Phone: 305/538-1411
Fax: 305/532-9477
Reservations: 800/245-2648
The Sea Deck Hotel
1530 Collins Avenue
Miami Beach, Florida 33139
Local Phone: 305/538-4361
Fax: 305/673-8109
The Surfcomber Hotel
1717 Collins Avenue
Miami Beach, Florida 33139
Reservations: 1-800-336-4264
Phone: 305-532-7715
Fax: 305-532-7280
Telex: 4938351

The Shelborne Beach Resort
1801 Collins Avenue
Miami Beach, Florida 33139
Reservations: 305/531-1271
Or: 888/626-0182
Villa Paradiso Guest House and Hotel
1415 Collins Avenue
Miami Beach, Florida 33139
Hosts: Mari and Todor
Phone: 305-532-0616
Fax: 305-673-5874

Waldorf Towers Hotel
860 Ocean Drive
Miami Beach, Florida 33139
Local Phone: 305/531-7684
Or: 800/933-BEACH
Fax: 305-672-6836

Winterhaven Hotel
1400 Ocean Drive
Miami Beach, Florida 33139
Local Phone: 305/531-5571
Fax: 305/538-3337
Reservations: 800/395-2322