>
---

MIAMI BEACH
North of the Deco District (above 20th Street) for SOUTH BEACH HOTELS, click here

9499 Collins Ave.
Surfside, Florida 33141
Res: (800)237-9367
Tel:(305)861-4801
Fax: (305)865-5971
Email Us!

Our 12-Story Oceanfront Apartment Hotel includes all the amenities of home, and more...Private Beach: 150 feet of soft, white sand on the Atlantic Ocean. Oceanfront Outdoor Heated Swimming Pool, Jacuzzi, sundeck. Each suite has kitchenw/refrigerator, stove, dishwasher, dishes, flatware, cooking utensils, air conditioning and heating w/individual control, cable television.

---
530 Ocean Drive
Miami Beach, Florida 33141
Tel: 305/673-1173
800/478-6082
Email Us!

Original, newly-rehabbed Art Deco gem in the heart of South Beach. Studios, one and two bedroom suites, and penthouses. The 5:30 Cafe provides gourmet cuisine or, if you prefer, cook in your own fully equipped kitchen.All just steps away fromnightclubs, restaurants and beaches. Our concierge is ready to assist!



3010 Collins Avenue
Miami Beach, Florida 33140
Tel: 305/532-6777
Fax: 305/532-3030
Email Us!
European Style All Suite Boutique Hotel located at the doorstep of South Beach. Elegant lobby with a contemporary home atmosphere, totally renovated in 1999. 55 beautifully decorated suites with separate living room and kitchen. Plus Piano Bar, sauna, swimming pool and more. Allow yourself to enjoy the ultimate Miami Beach experience Signum Style. Click the link for photo gallery, video tour, and online reservations.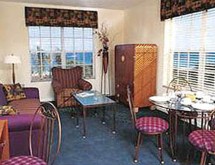 3611 Collins Avenue
Miami Beach Florida 33140

Lounge by the pool or along the beach outside your villa. When you're ready, embark on one of many possible day trips. Join a sailing excursion or go deep-sea fishing. The Florida Keys lie two hours south, the Everglade an hour west, and fashionable Fort Lauderdale an hour north. Venture to attractions like Miami Seaquarium or Parrot Jungle & Gardens where you can wander among more than 1,200 varieties of tropical plants and a menagerie of flying and earth-bound creatures. On site Amenities include Valet Parking, a Tiki Bar, Volleyball Court and a Playground for children. You will find something for everyone at this beachside retreat. Additional Services and Amenities include Elevators, Fitness Facility, and Outdoor Pool. Hotel is located near a variety of restaurants and shopping.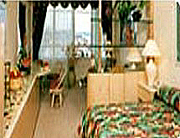 16701 Collins Avenue
Miami Beach Florida 33140

South Florida is a world-famous hot spot for dining, entertainment, nightlife and shopping, and Westgate Miami Beach is the perfect resort for enjoying everything the area has to offer! Spend the days tanning on white, sandy beaches or enjoying a beverage by the pool while listening to live music. Then, head out to South Beach, just a few miles away, for a nightlife scene that is known throughout the world! Westgate Miami Beach with its scenic oceanfront setting offers amenities and services including Private Fishing Pier, an Olympic size Pool, a Kiddie Pool, Whirlpool Spa, Pool Bar, Children's activity Center, Watersports, and Two 5-star Restaurants.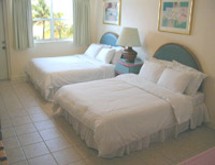 2601 Collins Avenue
Miami Beach Florida 33140

The Lorraine Hotel offers fabulous rooms at great rates Our Beach location offers diverse entertainment with something for everyone, attractions, water sports, nightlife, shopping, festivities and cultural events -- all just minutes from the Lorraine Hotel. Just steps from the beach, the Lorraine Hotel is a charming little hotel in a BIG location! Often referred to as the American Riviera, famous South Beach in Florida is the perfect place for a fabulous vacation. We are perfectly located close to the Ocean, one of the worlds most beautiful resort areas, surrounded by some of the best restaurants, shopping and nightclubs. On premises we have a food market, a restaurant, a hair salon/barber shop, and laundry facilities. Guests also have free access to photocopying equipment and computers with high-speed internet access.
---
Dezerland Surfside Beach Hotel
8701 Collins Ave.
Miami Beach, Florida 33154
Tel: 305-865-6661, Tx: 4973649, Eax: 305-866-2630

Brazil Hotel
6525 Collins Ave.
Miami Beach, Florida 33141
Tel: 305/861-5899, Fax: 305/864-4422, Res: 800/776-4898

Castle Beach Club
5445 Collins Ave.
Miami Beach, Florida 33140
Tel: 305/865-1500, 800/35-BEACH, Fax: 305/861-7864

Clarion Suites Crystal Beach
6985 Collins Ave.
Miami Beach, Florida 33141
Tel: 305/865-9555, 800/252-7466, Fax: 305/866-3514

Crown Hotel
4041 Collins Ave, 33140
Tel: 305/531-5771, Fax: 305/673-1612

Days Inn Art Deco/Convention Center
100 21st St
Miami Beach, Fl 33139
Tel: 305/538-6631, Fax: 305/674-0954, Res: 800/451-3345

Days Inn North Beach
7450 Ocean Terrace
Miami Beach, Fl 33141
Tel: 305/866-1631, Fax: 305/868-4617

Days Inn Oceanside
4299 Collins Ave.
Miami Beach, Florida 33140
Tel: 305-673-1513, Fax: 305-538-0727, Res: 800/Days Inn


Wyndham Hotel
4833 Collins Ave.
Miami Beach, Florida 33140
Tel: 305/532-3600, 800/Wyndham, Fax: 305/532-2334

Eden Roc Resort & Spa
4525 Collins Ave.
Miami Beach, Florida 33140, Tel: 305/531-0000, 800/327-8337, Fax: 305/674-5555

The Fontainbleau Hilton Resort and Towers
4441 Collins Ave.
Miami Beach, Florida 33140
Tel: 305/538-2000, 800/HILTONS, Fax: 305/ 532-8145

Golden Sands Hotel
6901 Collins Ave.
Miami Beach, Florida 33141, Tel: 305/866-8734, Fax: 305/866-0187

Holiday Inn South Beach Resort
2201 Collins Ave.
Miami Beach, Florida 33139, Tel: 305/534-1511; Fax: 305/532-1403

Holiday Inn Indian Creek
6060 Indian Creek Dr.
Miami Beach, Fl
Tel: 305/865-2565, Fax: 305/865-2506

Newport Beach Resort
16701 Collins Ave.
Miami Beach, Florida 33160, Tel: 305/949-1300, 800/327-5476, 800-HOLIDAY

Lido Spa Hotel
40 Island Ave.
Miami Beach, Florida 33139
Tel: 305-538-4621, Tx: 808165, Fax: 305-534-3680

Lily Guesthouse
835 Collins Ave.
Miami Beach, Florida 33139
Tel: 305/535-9900, Fax: 305/535-0077

Lucerne Hotel
4101 Collins Ave.
Miami Beach, Florida 33140
Tel: 305/532-2541 AE MC VS DC

Miami Beach Ocean Resort
3025 Collins Ave.
Miami Beach, Florida 33140
Tel: 305/534-0505, Fax: 305/534-0515, Res: 800/550-0505

Ocean Grande Hotel
3651 Collins Ave.
Miami Beach, Florida 33140
Tel: 305/532-1721, Fax: 305/534-1070

Ocean Pavillion Reality
5601 Collins Ave.
Miami Beach, Florida 33140, Tel: 305/865-6511, Fax: 305/868-5779

Paradise Inn Motel
8520 Harding Ave.
Miami Beach, Florida 33141
Tel: 305/865-6216, Fax: 305/865-9028 AE MC VS DS

Quality Inn Golden Nugget
18555 Collins Ave.
Miami Beach, Florida 33160, Tel: 305/932-1445, Fax: 305-932-0433 AE MC VS DS

Bestwestern Beach Resort
4333 Collins Ave.
Miami Beach, Florida 33140, Tel: 305/532-3311 800-832-8332

Radisson Deauville Resort
6701 Collins Ave.
Miami Beach, Florida 33141
Tel: 305/865-8511, 800/327-6656, Fax: 305/865-8154

The Savoy Hotel
55 Ocean Dr.
Miami Beach, Florida 33139
Tel: 305/532-0200, 800/237-2869, Fax: 305/531 1136

Saxony Hotel
3201 Collins Ave.
Miami Beach, Florida 33140
Tel: 305/538-6811, Fax: 305/672-3721


---
BAL HARBOUR
Sea View Hotel
9909 Collins Ave
Bal Harbour, Florida 33154
Tel: 305/866-4441, 800/447-1010, Fax: 305/866-1898 AE

Seville Beach Hotel
2901 Collins Ave.
Miami Beach, Florida 33140
Tel: 305/532-2511, 800/327-1641, Fax: 305/673-1592

Sheraton Bal Harbour
9701 Collins Ave
Bal Harbour, Florida 33154
Tel: 305/865-7511, 800/325-3535

Sol Miami Beach Hote
3925 Collins Ave.
Miami Beach, Florida 33140
Tel: 305/531-3534, 800/336-3542, 800/531-3534

Sovereign Hotel
4385 Collins Ave.
Miami Beach, Florida 33140
Tel: 305/531-5371, Fax: 305/532-5214 AE MC VS

Tarleton Hotel
2469 Collins Ave.
Miami Beach, Florida 33140
Tel: 305/538-5721, Fax: 305/531-0276

Traymore Hotel
2445 Collins Ave,
Miami Beach, Florida 33140
Tel: 305/534-7111, 800/445-1512, Fax: 305/538-2632 AE MC VS DS

Varadero Beach Hotel
15901 Collins Ave.
Miami Beach, Florida 33160
Tel: 305/947-1481, Fax: 305/947-2781 AE MC VS ER

Versailles Hotel Condominiums
3425 Collins Ave.
Miami Beach, Florida 33140
Tel.305/531-6092, Fax: 305/541-1516 AE MC VS

Sasson Hotel
2001 Collins Ave, Miami Beach, Florida 33139
Tel: 305/531-0761, Tl: 5326544. Fax: 305/532-6544 AE

Hotel 100
100 Lincoln Rd.
Miami Beach, Florida 33139
Tel: 305/531-6886, 800/327-1039, Fax: 305/53463994AE MC VS DC