FLORIDA FITNESS




By Karen Martin
If you've been thinking about starting a fitness regimen but aren't into the health club scene, an outdoor exercise program may be the solution you need to get up and get moving.





More Absolutely Florida
More Florida Recreation
GET OUTDOORS!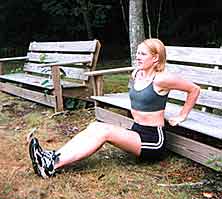 Exercising outdoors offer benefits to both the body and the mind. In fact, more than twice as many Americans exercise outdoors than in health clubs. Being outdoors for most people who are indoors all day is refreshing, and offers a good alternative to fighting traffic, crowds and noise at health clubs. South Florida's beaches, parks and neighborhoods are productive exercise environments desirable to all fitness levels -- from rookie to veteran. And, the best part is that little, if any equipment is required. Here's a few areas where you can enjoy a true nature workout.

Beaches - Beaches aren't just for sipping margaritas and rubbing in suntan oil. From Key West to Pensacola Beach, the opportunities never end for both locals and tourists to stay active. Start your day with a sunrise walk or finish it with a sunset jog. Join in beach volleyball games or invest in a boogie board and ride a few waves. Throw a football or frisbee with family or friends. Cool off with a refreshing swim and before you know it you will see how a a day at the beach can burn a bundle of calories!