---
Gainesville Area
Canoeing
SANTA FE RIVER
26 miles. Start 2 miles N. of High Springs on U.S. 41.

TOMOKA RIVER
16 miles. Start on S.R. 40, I mile W. of 1-95 at Ormond Beach. 5 mile loop.

Resources: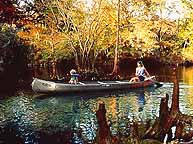 Santa Fe River Canoe Outpost
P.O. Box 592
High Springs, Florida 32655
Phone: 386/454-2050
Fax: 386/454-2510
Canoe Florida's most beautiful rivers. We offer a variety of paddling excursions on the Santa Fe, Ichetucknee & Suwannee Rivers, plus romantic full moon canoe rides. Crystal clear springs puncuate the rivers. Pines, cypress,oaks & other hardwoods choke their banks. Wildlife is sighted year-round including several species of turtles, birds, fish & on special occasions, beaver, otter, deer, wild boar & our old friend, the alligator.Visit our website for more information.
Take the High Springs exit, Hwy. 441 off of Interstate 75. Located at the Santa Fe River Bridge.


Ocklawaha Outpost
15260 NE 152 Pl.
Fort McCoy, FL
32134-8273
866/236-4606 or 352/236-4606


Canoe, kayak, stay in a cabin, bring your RV, or camp under the stars. We offer you, your family or your group everything you'll want to create a vacation of fun, adventure and relaxation. Whether you choose to stay in our cabins, tent on our grounds or paddle our river, you'll find our friendly, professional staff committed to meeting all of your needs.



Wild Florida Adventures
Guided Kayak Trips in the Big Bend Area.
PO Box 12372
Gainesville, FL 32604-0372
352/373-6047, 877/945-3928

Panhandle
Pensacola Area
Canoeing
PERDIDO RIVER
27 miles. Start 3 miles W. of S.R. 97-A at end of Jackson Springs Road. This river borders the state of Alabama.

SWEETWATER/JUNIPER CREEKS
15 miles. Start 2 miles E. of Munson off S.R. 4. Water may rise quickly after a heavy rain.

Resources
Crestview Area
Canoeing
BLACKWATER RIVER
35 miles. Start 6 miles W. of Blackman on S.R. 189. Swift upper section, water level fluctuates after rains.

COLDWATER CREEK
16 miles. Start 15 miles E. of Jay on S.R. 4.

SHOAL RIVER
27 miles. Start on S.R. 285.

YELLOW RIVER
50 miles. Start on S.R. 2 in Oak Grove in northern Okaloosa County. Swift with many partially submerged logs, use caution

Jasper Area
Canoeing
SUWANNEE RIVER
141 miles. Start at bridge on S.R. 6. Scout dangerous shoals above White Springs.

WITHLACOOCHEE RIVER
32 miles. Start from bridge on S.R. 145

Resources
American Canoe Adventures
8974 Tomahawk Landing Rd.
Milton, FL 32570-9726
850/623-6197, fax:850/626-3124
Canoes, kayaks, raft rentals and repairs, camping with facilities

Tallahassee Area
Canoeing
AUCILLA RIVER
19 miles. Start 1 mile S. of Lamont on U.S. 19/27. Rapids and dams.

LOWER OCHLOCKONEE RIVER
67 miles. Start at the S.R. 20 bridge.

UPPER OCHLOCKONEE RIVER
58 miles. Start at the S.R. 12 bridge.

SOPCHOPPY RIVER
15 miles. Start on forest road 346, 5 miles N. of Sopchoppy. Water level fluctuates after heavy rains.

WACISSA RIVER
14 miles. Start 1 mile S. of Wacissa off S.R. 59.

WAKULLA RIVER
4 miles: Start is from S.R. 365.

Springs
ALAPAHA RISE
Westlake, Florida (near Perry)

BLACK SPRINGS
Kynesville, Florida (near Springfield)

BLUE SPRING
Mayo, Florida (near Perry)

BLUE SPRING
Madison, Florida

GAINER SPRINGS
Bennett, Florida (20 miles N of Panama City)

GLEN JULIA SPRINGS
Mount Pleasant, Florida (6 miles NE of Quincy)

HOLTON SPRINGS
Adams, Florida

INDIAN SPRINGS
Greensboro, Florida

LIME SPRINGS
Ellaville, Florida

BONNET SPRINGS
Luraville, Florida (7 miles E of Madison)

PEACOCK SPRINGS
Luraville, Florida

PITTS SPRINGS
Bennett, Florida

PONCE DE LEON SPRINGS
Ponce de Leon, Florida

TELFORD SPRINGS
Luraville, Florida

WILLIFORD SPRINGS
Bennett, Florida

WACISSA SPRINGS GROUP
Wacissa, Florida

WAKULLA SPRINGS
Wakulla, Florida

Resources
The Wilderness Connection
4467 Argyle Lane
Tallahassee, FL 32308-9612
850/472-5837

TNT Hideaway
6527 Coastal Hwy.
Crawfordville, FL 32327-2917
941/472-5837

Cedar Key Area
Resources
Cedar Key Kayak, Inc.
PO Box 917
Cedar Key, FL 33625-0917
352/543-9437

Marianna Area
Canoeing
CHIPOLA RIVER
50 miles. Start at the Florida Caverns State Park or S.R. 167. Watch for exposed shoals just below S.R. 274.

ECONFINA CREEK
22 miles. Start at Scott's Bridge, 4 miles W. of U.S. 231.

HOLMES CREEK
20 miles. Start at wayside park in Vernon on S.R. 79.

Springs
BECKTON SPRINGS
Vernon, Florida, (near Holmes)

BLUE HOLE SPRING
Marianna , Florida (near Jacksonville)

CYPRESS SPRING
Vernon, Florida

SPRINGBOARD SPRINGS
Marianna, Florida

West Central
Tampa Area
Canoeing
ALAFIA RIVER
13 miles. Start at Alderman Ford County Park on S.R. 39.

LITTLE MANATEE RIVER
5 miles. Start on U.S. 301

UPPER MANATEE RIVER/TOMOKA RIVER
Upper Manatee Rivier. 9 miles. Start at Hagle Park Road, 8 miles east off I-75,exit 42. 5.5 Mile up river, 3.5 down river.

Springs
CRYSTAL SPRINGS
Zephryrhills, Florida

CRYSTAL RIVER SPRINGS
Crystal River, Florida

HOMOSASSA SPRINGS
Homosassa Springs, Florida

CHASSAHOWITIZKA SPRINGS
Homossasa Springs, Florida

EUREKA SPRINGS
Tampa, Florida

HART SPRINGS
Wilcox, Florida

WARM SPRINGS
Venice, Florida

WEEKI WACHEE SPRINGS
Weeki Wachee, Florida

Resources
Alafia River Canoe Rentals
4419 River Drive
Valrico, FL 33594
813/689-8645

Aqua Azul Kayaks
17952 US 19N
Clearwater, FL 34624
813/530-7555
Classes, day trips

Canoe Escape, Inc.
9335 Fowler Ave.
Thonotosassa, FL 33592-2135
813/986-2067, fax:850/626-3124
Quiet water tour through 16,000 acre wilderness park

Canoe Outpost - Little Manatee
18001 US 301 S.
Wimauma, FL 33598
800/229-1371, 813/634-2228


Resources:
Homosassa Kayak & Expedition Co.
6270 Banyon Dr.
Homosassa, Florida 33488
352/628-5707

Ray's Canoe Hideaway on the Manatee River
1247 Hagle Park Rd. Bradenton, FL 34202
941/747-3909
FAX 941/957-3031

New Port Richie Area
Canoeing
PITHLACHASCOTEE RIVER
5 miles. Start from Rowan Road Bridge just N. of S.R. 518.

Sarasota Area

Myakka Outpost
13207 St. Rd. 72.
Sarasota, FL 34241
813/923-1120

Canoe Outpost - Peace River
2816 NW County Road 661
Arcadia, FL 34266
800/268-0083, fax:941/494-4391
Overnight and day trips

Canoe Safari
3020 NW County Road 661
Arcadia, FL 34266
941/494-7865, fax:941/494-5562
Overnight and day trips

Peace River Canoes
2184 E. Main Street
Wauchula, Florida 33873
941/773-6370
Canoe rentals on the Peace River Canoe Trail

East Central
Daytona Area
Canoeing
UPPER MANATEE RIVER/TOMOKA RIVER
Upper Manatee Rivier. 9 miles. Start at Hagle Park Road, 8 miles east off I-75,exit 42. 5.5 Mile up river, 3.5 down river.

BULOW CREEK
13 miles. Start at Bulow Ruins State Historic Site. 7 mile upstream loop.

SPRUCE CREEK
14 miles. Both start and finish are at Moody's Bridge, 1 mile S. of Port Orange interchange on 1-95, on road leading to Spruce Creek Airport.

Springs
ALEXANDER SPRINCS
Astor Park, Florida (Ocala National Forest, Ocala)

BLUE SPRING
Orange City, Florida

FERN HAMMOCK SPRINGS
Astor, Florida

JUNIPER SPRINGS
Astor, Florida

PONCE DE LEON SPRINGS
Barberville, Florida

WHITEWATER SPRINGS
Palatka, Florida

Southwest
Naples Area
Canoeing
BLACKWATER/ROYAL PALM HAMMOCK CREEK
13 mile loop: In Collier-Seminole State Park. Use caution in bad weather.

Resources:
North American Canoe Tours
PO Box 5038
Everglades City, FL 33929
203/695-4666, fax:203/739-4470
Canoe and kayak tours, bed and breakfast.

Fort Myers Area
Canoeing
HICKEY'S CREEK
4 miles. Start off Bateman Road, 2 miles S. of S.R. 80.

Resources:
Canoe Outpost - Peace River
2861 NW County Road
Arcadia, FL 34266
941/494-1215, fax:941/494-4391
Overnight and day trips

Estero River Tackle & Canoe
20991 South Tamiami Trail
Estero, FL 33928
239/992-4050

Wildside Adventures
3740 Coquina Drive
Sanibel, FL 33957-5216
239/472-5837

Tarpon Bay
900 Tarpon Bay Road
Sanibel, FL 33957
239/472-8900, fax:239-2772

Gulf Coast Kayak
4530 Pine Island Road
Matlacha, FL 33993
239/283-1125

Ivan's Canoe Rental
813 N. Emerald Dr.
Key Largo, Florida 33037
616/745-3361

Boca Grande
Kayaking & Eco-tours
Boca Grande Sightseeing Cruises
Placida Road, Placida, Florida 33946

Central
Orlando Area
Canoeing
ECONLOCKHATCHEE RIVER
22 miles. Start on S.R. 419.
Related Story & interactive map

WEKIVA RIVER
25 miles. Starts at Wekiwa Springs in Wekiwa State Park and flows North 8 miles to Katie's Landing then to the St Johns.

ROCK SPRINGS RUN
Designated an Outstanding Florida Waterway. It starts at Rock Springs in Kelly Park 6 mi north of Apopka and flows south through the middle of Wekiwa State Park to join the Wekiwa River. Resources:
King's Landing Canoe Rental
5722 Baptist Camp Road
Apopka, Florida 32714
407/886-0859
Email Us!
A canoe for two from King's Landing to the Wekiwa Marina and a ride back in van is $25, 7 days a week, 8:30 to 5:30. The 8 mile trip takes 4+ hrs.
Directions; Directions: from Orlando, take I-4 East to 436, 436 West to Apopka, N 6 mi on Rock Springs Rd (SR435), follow signs to Rock Springs and King's Landing.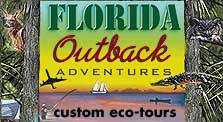 Florida Outback
1242 Magestic Palms Ct.
Apopka, Florida 32712
407/884-1802
Custom eco-tour packages for groups of 4 or more. Explore the "Real Florida" with a special adventure tailored to your own interests. Airfare, car rental and lodging arrangements also available.




Old Spanish Sugar Mill
PO Box 691
De Leon Springs, FL 32130-0691
850/985-5644
Canoes and kayaks

Dade City Area
Canoeing
WITHLACOOCHEE RIVER (south)
84 miles. Start from Coulter Hammock Recreation Area in the Withlacoochee State Forest.

Resources
Nobleton Boat Rental
PO Box 265
Nobleton, FL 34661
352/796-7176, 800/783-5284, fax: 352/796-3205

Shawnee Trail Campground
2000 C. Bishop's Point
Inverness, FL 34450
800/834-7595, fax:352/344-3372
Canoe and boat rental, RVs, tents and camping, showers, shuttle

Withlacochee River RV Park
PO Box 114
Lacoochee, FL 33537
850/583-4778, 813/689-9770

Bartow Area
Canoeing
PEACE RIVER
67 miles. Start in Fort Meade at City Park at U.S. 98 bridge.

Northeast
St. Augustine Area
Canoeing
PELLICER CREEK
4 miles. Start on U.S. 1.

Resources:
Whole Earth Outfitters
1093 A1A Beach Blvd. #PMB324
St. Augustine Beach, FL 32084-6733
904/471-8782

MacClenny Area
ST. MARY'S RIVER
66 miles. Start from S.R. 121, 5 miles N. of Macclenny.

Springs
BRANFORD SPRING
Branford, Florida (near Chassahowitzka)

BLUE SPRING
Bronson, Florida (near Chassahowitzka)

BLUE SPRINGS
High Springs, Florida (15 miles NW of Gainesville)

FANNING SPRINGS
Fanning Springs, Florida (30 miles SW of Gainesville

FLETCHER SPRINGS
Hatchbend, Florida (8 miles S of Branford Springs)

GINNIE SPRINGS
High Springs, Florida

GURANTO SPRINGS
Rock Bluff Landing, Florida

ICHETCKNEE SPRINGS GROUP
Fort White, Florida

MANATEE SPRINGS
Chiefland, Florida

OTTER SPRINGS
Wilcox, FLorida

RAINBOW SPRINGS
Dunellon, Florida

ROCK BLUFF SPRINGS
Bell, Florida

SALT SPRINGS
Salt Springs, Florida

SUN SPRINGS
Wilcox, Florida

TURLE SPRINGS
Hatchbend, Florida

WELAKA SPRING
Welaka, Florida

Jacksonville Area
Springs
KINI SPRINGS
Bethel, Florida

LITHIA SPRINGS
Kithia, Florida

MORRISON SPRINGS
Redbay, Florida

NATURAL BRIDGE SPRINGS
Woodville, Florida

NEWPORT SPRINGS
Newport, Florida

RAINBOW SPRINGS
Dunellon, Florida

SILVER GLEN SPRINGS
Salt Springs, Florida

SILVER SPRINGS
Ocala, Florida

ST. MARKS SPRINGS
Woodville, FLorida

SUWANEE SPRINGS
Live Oak, Florida

TROY SPRING
Branford, Florida

VORTEX BLUE SPRING
Ponce de Leon, Florida

WALDO SPRINGS
Perry, Florida

Resources
Black Creek Trading Post
410 Blanding Blvd.
Orange Park, FL 32073-5051
850/272-9449, fax:850/272-9176


Southeast
Jupiter Area
Canoeing
LOXAHATCHEE RIVER
8 miles. Start 5 miles W. of Jupiter, at end of dirt road which begins on E. side from toll booth of Florida Turnpike at S.R. 706 interchange.
Related story

Resources:

Launch Address: 10216 Lee Road, Boynton Beach, FL, 33437
Mail Address: 12440 SR 7 Boynton Beach, FL, 33437
Tel: 561/733-0192
Email us!
Canoe & kayak rental, public & private tours

Canoe Outfitters of Florida
16346-106 Terrace N.
Jupiter, Florida 33478
407/746-7053
Canoe & kayak rental, shuttle service.

Jonathan Dickinson State Park
16450 SE Federal Hwy.
Hobe Sound, Florida 33455
772/746-1466,800/746-1466, fax: 772/743-4268
Cabins, boat tours, hourly and daily tours

Key Largo Area
Resources:
Florida Bay Outfitters
P.O. Box 2513
Key Largo, Florida 33478
305/451-3018, fax: 305/451-9340

Kayaking Florida
PO Box 772
Islamorada, FL 33036-0772
305/664-9494am, 305/872-0516pm
Sales, tours, rentals

Key West Area
Resources:
Florida Keys Back Country Adventures
6810 Front St.
Key West, Florida 33040
305/296-0362

Mosquito Coast Island Outfitters
1107 Duval St..
Key West, Florida 33040-3127
305/294-7178, fax:305/292-2220
Environmental tours