Reservations for
Florida State
Parks are now
made through
Reserve America,

toll free, at
1-800-326-3521

ST. JOSEPH PENINSULA STATE PARK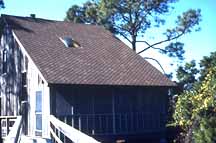 St. Joseph Peninsula State Park has miles of white sand beaches, striking dune formations, a heavily-forested interior and a favorable climate for year-round outdoor recreation characterize this peninsular state park. The 2,516-acre park is bounded on three sides by the waters of St. Joe Bay and the Gulf of Mexico.
---

HISTORY
Indians once inhabited the peninsula and gathered shellfish for meals from the bay's shallow waters. Before the area was purchased for development as a state park, it was used as a U.S. Army training facility during World War II.
---

WILDLIFE
Named for lifelong community leader and settler T.H. Stone, the park is teeming with wildlife and marine life. Noted as an excellent birding area with sitings of 209 species currently recorded, it is a premier location in the eastern United States for observing hawks during fall migration. Many species can be seen including the endangered peregrine falcon. The monarch butterfly is also on the wing in autumn, making its long migratory journey from northern states to wintering sites in Mexico. Shore and wading birds are in abundance throughout the year.
While the best area of the park to observe birds is along the beach and bayshore, the sandpine scrub, pine flatwoods and dunes offer protective habitat. The shallow waters of St. Joseph Bay are alive with a variety of marine life. Frequently encountered are bay scallops, hermit, fiddler and horseshoe crabs and octopi.
---

RECREATION
The park offers picnicking, swimming, camping, saltwater fishing, boating and wilderness hiking in the park's 1,650-acre wilderness preserve.

St. Joseph offers luxury, furnished cabins located on the bay side of the park. Each cabin is a two-story elevated building. They have open lofts with two double beds, a sleeper sofa and daybed. Each has an equipped kitchen, bathroom and living area. Linens and towels are given at the beginning of the visit. For extended visits, visitors are encouraged to bring extra towels. There are 119 campsites with water, electricity, picnic tables and grills. Campsites and cabins can be reserved by phone or in person. There is also a special tent camping area for organized, non-profit youth groups. For camping reservations, call 1-800-326-3521.

A boat ramp, boat basin and canoe rentals are available.

Hiking along the Gulf beach, the bay shore or the center of the peninsula is the best way to observe wildlife and enjoy the natural values of the park. Nature trails provide easy access to the various plant communities. Guided walks and campfire programs are offered seasonally.
---
---


St. Joseph Peninsula State Park is located near Port St. Joe, off C.R. 30-E, off U.S. 98.
For more information, contact:
St.Joseph Peninsula State Park
8899 Cape San Blas Rd.
Port St.Joe, Florida 32456
(850) 227-1327